Buckinghamshire £275m waste incinerator contract awarded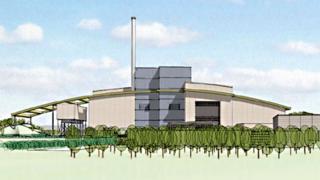 A waste recycling company has been given a £275m contract to build and run an incinerator in Buckinghamshire.
FCC Environment, formally known as Waste Recycling Group (WRG), will build the energy-from-waste plant in Calvert near Aylesbury.
The county council's cabinet approved the contract and said it would save taxpayers about £150m over 30 years.
The company said the 300,000 tonne plant would be built by 2015, creating 300 jobs during construction.
Buckinghamshire currently recycles 45% of its household waste and pays £11.6m a year to dispose of waste to landfill, the county council said.
Steven Adams, cabinet member for the environment, said: "We aim to increase our recycling rate to 60% by 2020.
"However the increase in landfill tax means that even after this, if we don't find alternative ways to manage our waste we will be paying £13m a year to dispose of our waste at landfill."
Planning permission for the plant was approved by the council in April, despite opposition.
Objectors had said a similar plant was planned for Stewartby in Bedfordshire and there was no need for the county to have its own facility.