Servitude case: James John and Josie Connors jailed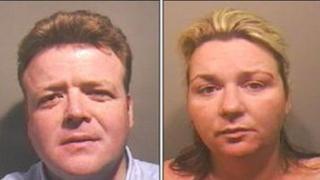 A husband and wife who "brutally manipulated and exploited" destitute men, forcing them into a life of servitude, have been jailed.
Travellers James John Connors, 34, and Josie Connors, 31, were convicted of two counts each of keeping people in servitude and forcing them to work.
The Bedfordshire pair were jailed for 11 years and four years respectively.
Luton Crown Court heard they abused the men for financial gain. The judge said their actions were "pure evil".
James John Connors, known as Big Jim, was also convicted of assault occasioning actual bodily harm.
The prosecution offered no evidence on a battery charge after the jury failed to reach a verdict on it.
The couple, who are also cousins, had denied all the charges.
Sentencing them at Luton Crown Court, Judge Michael Kay QC said: "The way they brutally manipulated and exploited men is pure evil.
"It is at odds with the moral code of the religion they profess to hold.
"Their disdain for the dignity of others is shocking. They were not Good Samaritans but violent, cold, hard exploiters."
Found on streets
Witnesses had earlier told the court that the victims, who cannot be named for legal reasons, were forced to work in the Connors' block paving business.
The jury heard the men were given next to no food, forced to wash in cold water and paid little or no money for working up to 19 hours a day, six days a week.
Some were alcoholics, drug addicts or had previously been in trouble with the law, and were picked up off the streets, at soup kitchens or in centres for the homeless.
Karen Walton, defending, told the court her client, Josie Connors, was a mother of three and "reacted badly" to being remanded in custody by the court on Wednesday.
"She is not very well," she said.
"She has been on watch in the prison service.
"For a traveller to be static has a much more detrimental effect than on other people in our society."
Four other members of the family, who lived at Greenacres caravan park, near Leighton Buzzard, are to face a retrial on charges of holding men in servitude and subjecting them to forced labour.
They will be tried at Luton Crown Court in April next year.
The accused are Tommy Connors Snr, 52, and his sons Tommy Connors Jnr, 27, James Connors, 24, and Patrick Connors, 20.
Johnny Connors, 28, a son of Tommy Connors Snr, who was cleared of servitude and forced labour, has been freed.