Millbrook Proving Ground track crash driver was in Honda test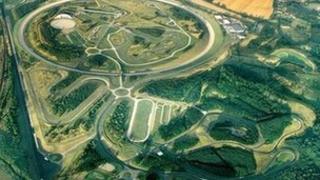 A man who died in a crash at a test track in Bedfordshire was testing a vehicle for Honda, it has emerged.
The 47-year-old, from Swindon, Wiltshire, died in a single-car crash on the Millbrook Proving Ground, near Marston Mortaine, on Tuesday.
In a statement, Swindon-based Honda said the man was a "Honda associate" and was in the car with four colleagues.
All four were hurt but their injuries were not life-threatening, it added.
Police and the Health and Safety Executive are carrying out an investigation.
The driver, who is yet to be named, was pronounced dead at the scene.
His family has been informed and an inquest will be opened in due course, a Honda spokesman said.
The spokesman did not reveal the nature of the test, the type of vehicle involved or whether Honda was carrying out further vehicle tests at the site on Wednesday.
Honda regularly uses Millbrook, which is said to be one of Europe's leading locations for the development, test and demonstration of land vehicles including those used by the military.
It is also a regular location for television shows such as Top Gear and Fifth Gear and featured in the James Bond film, Casino Royale.
Modelled on the Milford Proving Ground, in Michigan, USA, the 700-acre site was constructed in the 1960s by Vauxhall Motors.