Servitude trial: Four of Connors traveller family guilty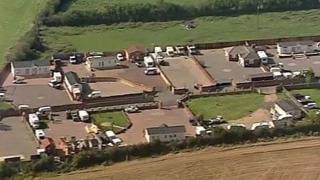 Four members of a traveller family have been found guilty of forcing destitute men into servitude.
Tommy Connors Snr, 52, his son Patrick Connors, 20, and daughter Josie, 31, kept the men in squalid conditions at Greenacres caravan park in Bedfordshire, the trial heard.
Josie's husband James John Connors, 34, has also been found guilty.
Luton Crown Court heard victims were made to work for nothing and slept in sheds and horseboxes.
The jury heard that victims were verbally abused, beaten and exploited for financial gain at the Greenacres caravan site near Leighton Buzzard.
Cold water
The court was told the complainants, who cannot be named for legal reasons, were forced to work in the Connors' block paving business.
Over 13 weeks the trial was told the men were given next to no food, forced to wash in cold water and paid little or no money for working up to 19 hours a day, six days a week.
Some were alcoholics, drug addicts or had previously been in trouble with the law, and were picked up off the streets, at soup kitchens or in centres for the homeless.
Josie, who sobbed in the dock, and her husband James John were convicted of two counts each of servitude and forced labour, with James John also guilty of actual bodily harm.
The jury failed to reach a verdict on James John's battery charge.
'Concentration camp'
Tommy Sr, 52, faced 11 counts and was convicted of one servitude charge and one forced labour charge, as well as one of actual bodily harm.
Patrick was convicted of conspiring to hold a person in servitude, as well as forced labour and actual bodily harm charges.
He was cleared of two other counts but the jury failed to reach a verdict on seven others.
A total of seven members of the family were on trial but the jury failed to reach verdicts on a number of charges against Tommy Snr's sons Tommy Jr, 27, Johnny, 28, and James Connors, 24.
The court heard one victim told police he had been warned he would be "murdered" if he ever tried to leave.
Another said that living at the caravan site was like being in a "concentration camp".
Most of the workers sooner or later managed to escape but remained fearful of being "recaptured", the jury heard.
Police raided the Greenacres caravan site on 11 September last year.
Judge Michael Kay QC told the court he will sentence the four defendants on Thursday when a decision will also be made about the charges where no verdict was reached.