Hemel Hempstead bus lane drivers asked for refunds to go to hospice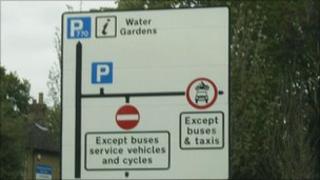 Thousands of drivers fined illegally for driving in a Hertfordshire bus lane are to be asked if they want to give their refunds to charity.
The Traffic Penalty Tribunal ruled in April that signage on Moor End Road bus lane in Hemel Hempstead was unlawful.
Hertfordshire County Council now has to repay £1.3m collected in fines.
Drivers will be asked to claim a refund or allow it to be given to St Francis Hospice in Berkhamsted, but applications must be in by 31 December.
Unclaimed refunds will also be paid to the hospice.
About 36,000 drivers received £60 fixed penalties for using the bus lane.
Following the tribunal's judgement, the council said it was not legally obliged to make the repayment but felt it was morally right.
The arrangements for making the refunds were decided at a council meeting on Monday.
Stuart Pile, cabinet member for highways and transport, said: "The Hospice of St Francis in Berkhamsted will be given the first £100,000 of any unclaimed penalty charges, and motorists will be invited to donate the sum to which they are entitled to the same cause.
"Should the unclaimed sum exceed £100,000, a further report will be brought to Cabinet with the firm intention that any excess will also be donated to charity."