Computer hacker Gary McKinnon's treatment 'barbaric'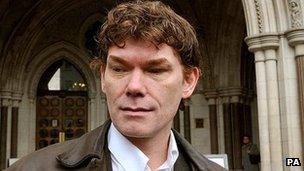 The mother of computer hacker Gary McKinnon has delivered letters and poems to Downing Street to mark the 10th anniversary of her son's arrest.
Mr McKinnon, who has Asperger's syndrome, is accused of hacking US military computer systems in 2002.
Janis Sharp said the treatment of her son, who admits hacking into military computers but claims he was looking for evidence of UFOs, was "barbaric".
"Ten years have gone by and still Gary lives in a nightmare world," she said.
Ms Sharp, from Brookmans Park in Hertfordshire, urged Prime Minister David Cameron to raise the issue with US President Barack Obama when the two leaders meet at the White House next month.
"This endless pressure on an Aspergic man with severe mental health issues is barbaric," she said.
"And for what? A foolish act that caused embarrassment to the US.
"Where has our sense of proportion gone?"
'All the promises'
The director of human rights group Liberty, Shami Chakrabarti, who accompanied Ms Sharp to Downing Street, said Mr McKinnon's plight was "unfair" and showed a "lack of compassion".
She said: "It is astonishing we are still here, despite all the promises made by both parties that are in this coalition government before they were elected.
"It would be a flagrant breach of Gary's human rights to send him to the US and we have got to stand up against this."
The High Court expressed concern over how long Mr McKinnon's case was taking to return to court last month, with two judges listing the case for July in a bid to speed matters up.