Campaigners appeal to Pope over London Colney pastoral centre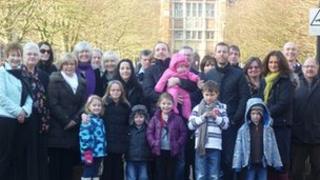 Campaigners hoping to stop the sale of a religious centre in Hertfordshire have written to the Pope asking him to intervene.
Westminster Diocese says it cannot afford to carry out essential renovation work on the All Saints Pastoral Centre in London Colney.
The Save All Saints group say the sale of the 60-acre centre will be a "great loss" to the area.
"We are very disappointed," said campaign leader Peter Baker.
"The centre has been extensively used by Catholic lay people and other denominations over the years."
The letter to Pope Benedict XVI points out that All Saints was bought from an order of Anglican nuns in 1974 by the diocese, with an agreed covenant stating that any future sale would be to a purchaser who would ensure educational and religious continuity.
The group believes the diocese has accepted a bid from a property developer.
'Pastoral village'
The Save All Saints group is backing an alternative plan for a 'pastoral village' which would include a conference centre and other community facilities.
"A pastoral village would provide so much opportunity, not only for the worshipping community but also the wider community as a whole," said Mr Baker.
Bishop John Arnold, auxiliary Bishop in Westminster, said that while he sympathised with the campaigners, the centre did not meet the pastoral needs of the diocese.
"We have to use our resources as best we can and it was the decision of the trustees that running a conference centre isn't a primary pastoral priority for us," he said.
"I do understand that people have a real affection for the centre and that many people have benefited from having All Saints there for the last 37 years, but we are a charity and we must do the very best with our resources that we can."
A diocesan spokesperson said information about the buyer would be released to the public, "possibly within the next few weeks."