Bedfordshire, Buckinghamshire and Hertfordshire strikes: Services affected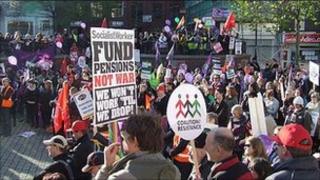 Schools, councils, Luton Airport and police in Bedfordshire, Buckinghamshire and Hertfordshire are being hit by the public sector workers' strike.
The walk-out over pensions involves thousands of public sector workers in the three counties.
About 600 schools out of 1,172 have been shut or partially closed.
Unions object to plans to make people work longer. The government has accused them of wanting to "wreck" economic recovery and cause public misery.
A civilian-run police call centre in Milton Keynes has been hit but the Thames Valley force said it could cope.
'Skeleton staff'
Anyone concerned about other services such as libraries have been urged to check council websites for updates.
Luton Borough Council said: "Essential services to protect the most vulnerable members of the community will be maintained, but other services will be affected and more still are expected to operate on a skeleton staff."
Some hospitals have rescheduled non-urgent procedures as nurses, paramedics and porters join the action.
About 50 workers are expected to take industrial action at Bedford Hospital.
However, the NHS trust which runs it said it was not expecting significant disruption and planned surgeries, outpatient appointments and all emergency services are due to run as normal.
A spokesman for the East and North Herts NHS Trust, which runs the Lister Hospital in Stevenage, the Queen Elizabeth II Hospital in Welwyn Garden City and Hertford County Hospital, said services were "operating normally".
Peter Gibson, from the trust, said: "We know that at least 95% of our staff are on duty today which means that all of our services, emergencies, out-patients, routine operations and procedures are all open for business as usual".
About 30 PCS union staff checking passports at Luton Airport are on strike.
Luton-based airline Easyjet brought in extra staff at the airport to help provide passengers with information.
However, management at the airport reported no problems.
Managing director Glyn Jones said: "In the immigration hall at 08:00 GMT, when we have the majority of our arriving passengers going through, the maximum queue was 15 to 20 minutes. From a service point of view I'm absolutely delighted."
Public sector rallies have been held in Luton, Aylesbury, Milton Keynes, Hertford and High Wycombe.
About 500 people from the unions Unite, GMB, Unison, NUT, UCU, PCS, AEP, ATL, NASUWT marched through Luton town centre and assembled on Market Hill for speeches.
Richard Gates, from Unite, said: "It's been a fantastic turnout, we've got passionate people out there and a lot of people striking for the first time in their lives who really feel strongly about what this government's doing to their pensions."
The prime minister's official spokesman said: "The strike action will achieve nothing - it would be far better to continue with the talks."