Milton Keynes Hospital 'not meeting paediatric standards'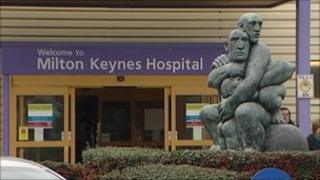 Milton Keynes Hospital's paediatric unit is failing to meet the required standard, the Care Quality Commission (CQC) has said.
The CQC said there was no dedicated high dependency unit for children and not all staff treating children were trained to a high enough level.
In June 2011, a coroner called for an investigation after the death of 13-month-old Calvin Aucock.
The Milton Keynes Hospital Trust now has 14 days to respond.
Compliance inspectors made an unannounced visit to the hospital in July, following the June inquest of Calvin, who was admitted to accident and emergency (A&E) unit and then the paediatric ward after suffering from severe dehydration.
Staff failed to diagnose his condition and he suffered a heart attack.
The hospital said it would "fully co-operate" with the CQC following the inquest.
'Additional steps'
The CQC's report stated that, while the trust had addressed the nursing staff vacancy issues in the paediatric department, children who attended the A&E department were not always cared for by nursing staff with a children's nurse qualification.
In addition, there were no children's nursing staff in the operating department recovery area.
The CQC said this meant the trust had not complied with the National Service Framework for Children, Young People and Maternity Services.
The Milton Keynes Hospital Trust must now send a report to the CQC, setting out the action it will take to improve.
A hospital spokesman said it recognised improvements could be made and work was already under way.
"The hospital itself identified to the CQC that we were already undertaking a review looking at the best environment to care for young people, particularly those over 14-years-old," the trust said in a statement.
"We acknowledge that we need to take additional steps to monitor and ensure all staff are keeping their training up-to-date.
"The CQC agrees that these are areas the hospital needs to work on and overall the CQC reported that we were providing "safe quality care, treatment and support."