Bedfordshire 'slaves' case: Four men remanded in custody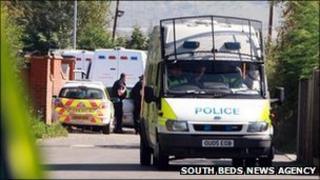 Four members of the same family have been remanded in custody charged with slavery offences.
Three brothers and their brother-in-law appeared at Luton Magistrates' Court.
They were arrested during a raid on Sunday at the Green Acres caravan site, Great Billington near Leighton Buzzard, Bedfordshire.
The men will appear at Luton Crown Court on 5 December on charges relating to four alleged victims who were removed from the site during the raids.
James (Jimmy) Connors, 23, Tommy Connors, 27, and Patrick Connors, 19, appeared at court, along with brother-in-law James (Big Jim) Connors, 33.
Prosecutor Ben Gumpert made an application to District Judge Leigh Smith that the four alleged victims should not be named in press reports.
'Varying conditions'
Mr Gumpert said James Connors (Big Jim) faces six charges of conspiracy in relation to three victims for offences allegedly committed between April last year and August this year.
The other three men each face four charges of conspiracy, in relation to two victims, for offences allegedly committed between June last year and April this year.
The court heard that many of the alleged victims were required to undertake work such as ground work, block paving, resurfacing and retiling for little or no pay.
They are currently in varying conditions both mentally and physically, Mr Gumpert said.
Wives and girlfriends of the defendants burst into tears as they were brought into the dock, and many continued to sob quietly during the hearing.
The charges followed an investigation by the Bedfordshire and Hertfordshire major crime unit and relate to alleged offences against the men at the Green Acres site.
A heavily pregnant woman who was arrested alongside the men on Sunday morning was released on bail and will be questioned further after the birth of her child, police said.
The four men spoke in court only to confirm their names, ages and address and to tell the court they understood the charges.
None of the defendants was required to enter pleas.
After the police raid, 24 men were taken from the site to a medical centre. Police said they were mostly from English and eastern European backgrounds.
A Bedfordshire police spokesman said nine people had left the medical centre and had "chosen not to support the police