QEII Hospital campaign to keep services goes on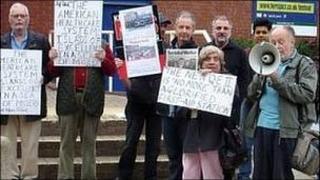 Protesters opposed to the loss of services at the Queen Elizabeth Hospital (QEII) in Welwyn Garden City - the first full hospital to be built by the NHS - are stepping up their campaign.
It follows an announcement that the final stage of Stevenage's Lister Hospital revamp has been given the go ahead, a decision which will see it become the main emergency and in-patient hospital for east and north Hertfordshire by the end of 2013.
It was a 2007 consultation which led to the decision to close many of the services at the QEII and transfer them to Stevenage, 14 miles away.
Since then, around £170m has been invested in building new facilities at the Lister with the aim of providing all acute services for the area on one site.
Plans have been discussed to demolish the QEII and replace it with a smaller unit by early 2014 and build more than 200 homes on the site.
The new smaller QEII hospital is set to include a local A&E facility, outpatients facilities, GP services, an MRI facility, X-rays and ultrasound, a unit to support elderly people, ante- and post-natal services, children's centre and a breast clinic.
Plans are still going ahead despite a continuing cross-party campaign against the 2007 decision with protesters maintaining the pressure to keep as many services as possible in Welwyn Garden City.
Barry Cross, secretary of the Welwyn & Hatfield Keep NHS Public Campaign, said its members were not yet resigned to the fact that all services would be moving.
"We're going to step up the campaign over the next weeks and we're going to take it as far as we can," he said.
Their stalls, normally based in Hatfield town centre, will now visit Welwyn Garden City every other week with other campaign displays outside the QEII, where they will be joined by colleagues from the North East London Council of Action from Chase Farm Hospital.
"We want to get people informed and agitated to do something about it," said Mr Cross.
"I'm constantly surprised at how many people don't know what's going on."
A&E downgraded
The group feels one of the biggest issues has been the downgrading of A&E services at the QEII.
From April 2010 to March 2011 the A&E department at the QEII saw 55,015 attendances, roughly a third of the total A&E attendances at the North and East Hertfordshire Trust.
It is reported that the new hospital will be able to handle 80% of this current load in a 'local A&E facility' which will be available 24 hours a day, every day of the year, accepting patients who can get there without an ambulance.
NHS Hertfordshire said: "Most people who currently use the QEII A&E are there because they need urgent treatment but their condition isn't life threatening.
"These patients will still continue to be treated at the QEII local A&E after the changes.
"Patients with life threatening conditions will be taken by 'blue-light' ambulances directly to other emergency departments where there is access to highly specialised equipment and staff such as at the Lister."
The problem of distance worries campaigners who also point to the issue of access to Stevenage is along the busy A1.
Mr Cross said: "They keep saying that the Lister will be able to cope but people just can't get over there quickly.
"We've been told that they don't need to take emergencies to Welwyn Garden City because with all the new technology there is, patients can be treated en-route [to Stevenage] but that depends on what's wrong.
"They can also get stuck in traffic and even though an ambulance could make its way through, what about people making their own way over and people without transport who have to get there at all hours and rely on friends and relatives."
One campaigner Tony Wickenden remains passionate about the subject following his experiences after a heart attack in 2010.
Due to another condition with similar symptoms, he did not realise the seriousness of his situation and got the bus to A&E at the QEII after being sent there by his GP.
'Very lucky'
"If this happened after the QEII had been downgraded, I would either have to get the bus or phone a friend to take me from Hatfield to Stevenage because I have no transport of my own and we might get stuck in traffic. I was very lucky."
Mr Wickenden was kept at the QEII for four days as the angioplasty suite at the Lister was busy, before being transported by ambulance to Stevenage after an ECG showed he needed specialist treatment immediately.
The ambulance had to race up the hard shoulder of the A1 as the road was blocked.
A statement from NHS Hertfordshire implies that in future, such situations would be avoided as patients would be admitted to the Lister in the first instance given the downgrading of the QEII's A&E facility.
A statement said: "The few patients who take themselves to the new QEII and who are diagnosed with a more serious condition which needs specialist treatment will be transferred immediately by ambulance to an emergency department either at the Lister or at another specialist unit.
"Similarly, in cases where people call an ambulance themselves, paramedics will start treatment as soon as they reach a patient and will take them straight to the hospital which can best treat their condition. This may not always be the closest one."
Plans for the new hospital were put on hold by Welwyn Hatfield Council on 11 August after councillors raised concerns about future parking facilites.
They voted in favour of deferring the decision on the proposal for three months, when the application will again go before Welwyn Hatfield Council's planning control committee.