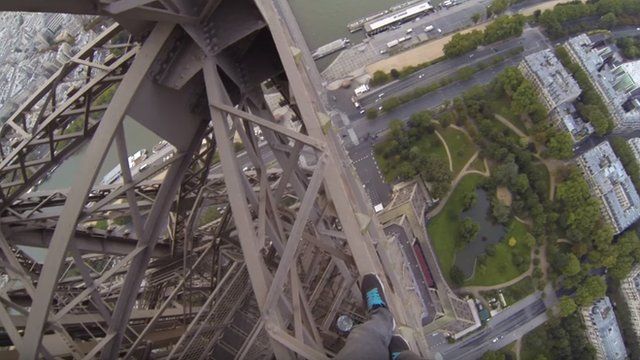 Free runner James Kingston posts Eiffel Tower climb video
9 November 2015 Last updated at 20:06 GMT
A British free-runner has posted footage of him climbing on the Eiffel Tower in Paris.
James Kingston from Southampton, filmed as he walked through the structure late last year, apparently without permission and safety equipment. He said the tower had been one of his "goals".
He posted the video on YouTube, claiming to have spent the night on the tower, and described evading security guards before eventually being held by police for six hours.
The 25-year-old achieved notoriety when footage of him hanging from a crane in Southampton in 2013 went viral. He climbed the arch of Wembley Stadium, with permission, earlier this year.