Eurotunnel services suspended after 'intrusion'
19 October 2015

From the section

England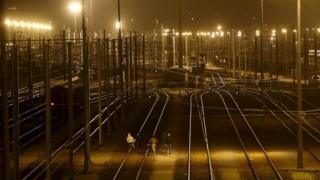 Eurotunnel services were suspended in both directions after an "intrusion" by hundreds of migrants at the terminal in Calais.
Channel Tunnel operators halted services between Folkestone and Coquelles in northern France after the terminal and platforms were stormed.
Some migrants used diversionary tactics to occupy police while others tried to cross the channel, Eurotunnel said.
Services have resumed, but passengers are warned to expect delays.
A spokesman for Eurotunnel said: "[The migrants] are coming in waves to occupy the police. Then another wave comes, then another, until there is no more police. One group is then able to get through.
"Then we have to take over and sweep through the terminal and clear them all from the tracks and the platform."
Earlier there were delays of up to 90 minutes for check-in and then two hours at the terminal at Folkestone.
Thousands in 'Jungle'
Eurotunnel is warning of ongoing delays at Folkestone, with trains operating "with some timetable disruption".
Passengers services from France are operating to schedule, the Eurotunnel website says.
"We are currently unable to sell tickets to non-reserved customers," a spokesman said.
The number of people living in makeshift camps outside Calais, known as The Jungle, has now reached 6,000.
One person died overnight on October 15-16 after being hit by a freight train at the Channel Tunnel's Coquelles terminal.
It followed the death on Thursday of a migrant, believed to be Syrian, who was hit by a car on a motorway close to the tunnel.
A total of 16 people have been killed in or near the tunnel trying to get to the UK since June.
The Home Office said it had recently spent £7m on security measures at Coquelles and continued to work with the French authorities to monitor the situation.