Frimley and Wexham hospital merger delayed by finance deal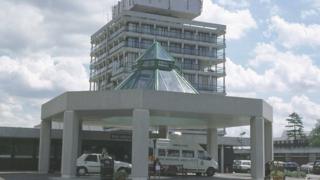 The takeover of an NHS trust by a neighbouring authority has been delayed while a financial package is agreed.
In February, Heatherwood and Wexham Park Hospitals NHS Foundation Trust in Berkshire was rated as inadequate by the Care Quality Commission (CQC).
Frimley Park Hospital NHS Foundation Trust in Surrey was given the go-ahead for the takeover by the Competition and Markets Authority (CMA).
The merged hospitals had been due to start to work together on 1 August.
'Funding support package'
At a meeting on Thursday, the council of governors at Heatherwood and Wexham Park and Frimley Park (FPH) approved the merger but questions still remain over the financial package the Surrey trust would receive to facilitate the takeover.
A spokesman for Frimley Park Hospital said: "FPH's board is hoping to give its final backing to the application for acquisition once agreements with all parties are concluded."
The spokesman said agreement needed to be reached on a funding support package, risk sharing arrangements and a risk rating for the transaction from the health sector regulator Monitor.
Tony Virgo, chairman of Bracknell Forest Council's health overview and scrutiny committee, said: "Although there's no date, I think it's going to be September or at the very latest, October, and it has to be agreed by both boards again."
Heatherwood and Wexham Park was placed in special measures at the start of May.
In its report, the CQC identified areas for improvement including staffing levels, A&E waiting times and surgical cancellations.
Special measures status involves implementing a series of urgent improvements to care and management.