Cash boost to build east region science base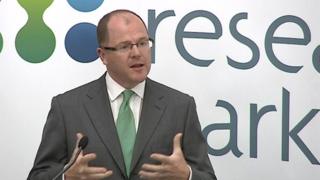 Science is what the east region wants to be known for these days and that transformation has been given a boost by two major new projects.
The government is investing a total of £26m in Norwich Research Park, while in nearby Downham Market in Norfolk, there are ambitious plans for a £170m science park.
If that's not enough, the John Innes Centre has announced that it is to open a new plant research centre.
Norfolk MP, George Freeman, has just been appointed Life Sciences Minister, the newly created role a sign of the growing importance which the government attaches to this field of technology.
"I couldn't be more honoured to be here in Norfolk in my first role as the new Minister for Life Sciences," he said.
"The brief is this, to tell the world that Britain is investing heavily and believes in the Life Sciences, food, medicine and energy, the appliance of bio science to tackle the problems facing the world and to unlock the power of technology to create new products, new companies and new businesses."
The Norwich Research Park keeps growing in size and is one of the most important scientific clusters in Europe.
Cambridge and Norwich are already international hubs and great strides are being taken in the spheres of Bio Science and Life Science.
The new investment will boost jobs and research.
More than 3,000 researchers work at the park in Norwich and soon there'll be even more.
Laboratories will be leased out to scientists and academics who want to pursue new ideas and a new £11m building will provide more space for new companies.
Economic boost
Politicians are all too aware that if we can lead the way in advanced scientific research, it'll have major benefits for the economy.
Labour MEP, Richard Howitt, is excited at the possibilities in Downham Market where The Centre for Advanced Knowledge Engineering will look to attract world leading companies in the field of so called "big data" - complex data applications which cannot be handled by standard databases.
He said: "It's so exciting here, particularly for young people who may have missed out on highly skilled jobs. It's going to open up a whole range of possibilities and it's great for west Norfolk."
These are the types of businesses that the region dearly wants to attract. Scientific research here could transform the 21st Century as well as helping the move away from traditional industries in the east.