Plans to restore River Avon boat route to Warwick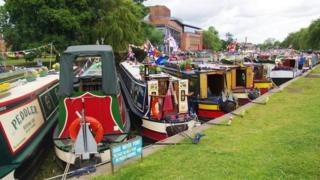 Plans to make the River Avon navigable as far as Warwick have been announced.
Continuous boating on the river from Tewkesbury, Gloucestershire, currently ends at Stratford-upon-Avon in Warwickshire.
A feasibility study is now under way for the Avon Extension, which the trusts involved said would be closer to King Charles I's original 1635 river navigation plan.
They believe the "cruising loop" would attract visitors and boost tourism.
The Avon Navigation Trust (ANT), Canal & River Trust and the Stratford & Warwick Waterways Trust have joined forces for the project, which could be completed by 2024.
Roger Clay, from ANT, estimated the work on the additional 13 miles (21 km) of river would cost about £35m and would include the installation of seven locks, some dredging and new canal sections.
He said the overall costs could be significantly kept down by using volunteers.
"This would be one of the most popular routes in the country, connecting 'honeypot' tourist sites, right at the heart of the national waterways network," he said.
The river's restored 1700s navigation route was opened from Tewkesbury to Evesham, Worcestershire, in 1964.
A second wave of restoration from Evesham to Stratford-upon-Avon was completed a decade later.
The drivers behind both restoration efforts, Charles Douglas Barwell and David Hutchings, were honoured with plaques in Stratford-upon-Avon's Bancroft Gardens last week.
Among those who helped with the restoration were inmates at HMP Winson Green.
Canal & River Trust chairman Tony Hales said: "It would be lovely to see Stratford connected to Warwick, which would be the ultimate achievement of their early dreams."