Three old East Midlands churches share £500,000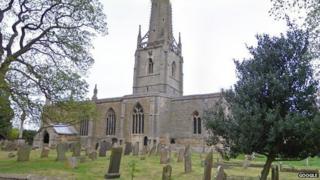 Three old churches in the East Midlands will share more than £500,000 to complete urgent repairs.
St Vincent's Church, in Caythorpe, Lincolnshire, will get £194,800 from the Heritage Lottery Fund (HLF).
The church said the money would also help villagers research the Grade I listed building's historical links.
The Church of St Mary and St Lawrence, in Bolsover, Derbyshire, and St Peter's Church, in Tilton-on-the-Hill, Leicestershire, will also get money.
The funding would also help the places of worship provide better facilities and make the churches more suitable for wider community use.
St Peter's Church, a Grade I listed building, which has also been highlighted on the Heritage at Risk Register, has been awarded £153,500 to secure its future.
Reverend Jane Curtis said: "The iron stone, which the building is made up of, has badly eroded over the centuries and unless we replace a lot of that we can't guarantee the building will be weather and water proof."
The Grade II listed Anglican church, in Bolsover, which is set to receive £171,200 for restoration work, has suffered the effects of heavy mining in the town.
In particular, repair work will be carried out to the tower of Church of St Mary and St Lawrence as it has moved significantly over the years.
Vanessa Harbar, from HLF East Midlands, said: "This money will pay for urgent repairs, whilst also helping to tell the stories of these special places to visitors.
"As a result the buildings themselves will be more used by the whole community, and properly cared for into the future."
St Vincent's Church has stained glass windows dedicated to the 216 Parachute Regiment Signals Squadron.