Migrants less likely to get new jobs says Esther McVey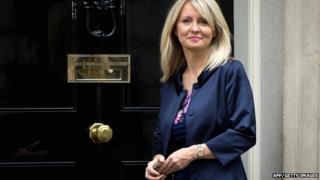 A government minister has denied claims that migrant workers are more likely to get new jobs than British workers.
Employment minister Esther McVey responded to reports that some farmers cannot find enough British-born staff for seasonal work.
The food production industry has in recent years seen a large increase in the number of workers from overseas taking jobs in farms and packhouses.
Yorkshire farmer Guy Poskitt employs up to 170 migrant workers to process vegetables for major supermarket chains.
In an interview for Sunday Politics Yorkshire and Lincolnshire, Mr Poskitt said: "Without overseas workers my business could not survive. We have some good local workers, but not enough of them.
"If there was a limitation on the number of overseas workers, I would have to tell many of my customers that I could not deliver their orders."
'Enjoys the work'
I spoke to one worker from Estonia, who is now working as an assistant technical manager for Poskitt's vegetable farm.
Marika told me her mother regularly travels to Yorkshire from Estonia to fill temporary jobs in the factory during peak periods, such as the run-up to Christmas.
"My mum spends half the year in Estonia and half the year here. She enjoys the work," said Marika.
The government has disputed claims that the majority of agricultural jobs are going to migrant workers.
Ms McVey said: "No longer is it four out of 10 British nationals getting jobs, it's now nearly eight out of 10 British nationals getting those jobs.
"So I would like to think that farmers do feel they can take on British people, because we've got them to a standard where they are good enough to employ."
Recent figures revealed a rise in the number of EU citizens coming to the UK in 2013, although net migration remained unchanged.