Cheeki Rafiki skipper Andrew Bridge remembered in yacht race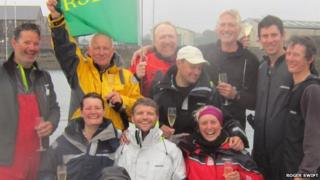 Friends of Andrew Bridge, skipper of the Cheeki Rafiki whose crew went missing in the Atlantic, will take part in a yacht race around Britain as a tribute to him.
Mr Bridge was meant to lead the crew in the same boat for the Sevenstar Round Britain and Ireland Race, which begins on 10 August.
The team says they will now race to remember the crew and raise RNLI funds.
The yacht's upturned hull was found by the US Coast Guard in May.
There was no sign of Mr Bridge, 22, from Farnham, Surrey; Paul Goslin, 56, from West Camel, Somerset; Steve Warren, 52, from Bridgwater, Somerset; and 22-year-old James Male, from Romsey, Hampshire.
Non-stop race
A US Navy helicopter crew discovered the wreckage of the 40ft Cheeki Rafiki about 1,000 miles (1,600km) east of Massachusetts following an official request from the UK government to resume the search.
The yacht, which was based in Southampton, had been sailing back to the UK from a regatta in Antigua when it went missing.
The team for the Round Britain and Ireland Race had sailed with Mr Bridge several times before.
Roger Swift, a retired police officer from Kent, said the occasion will be "bittersweet".
"Cheeki Rafiki should have been back in her home port of Southampton and we should have been out training on her with Andy", he said.
The crew also includes Kate Dawes and Nicky Evans.
Miss Evans was the person who set up the petition signed by 243,095 people that called on the US Coast Guard to resume the search for the Cheeki Rafiki crew.
The team has already raised more than £25,000 for the RNLI.
The Sevenstar Round Britain and Ireland Race sets off from Cowes.
This year, 20 yachts from 11 different nations will take part in the non-stop 1,802 nautical mile race.