Ex-detective Peter Foster committed suicide, inquest jury rules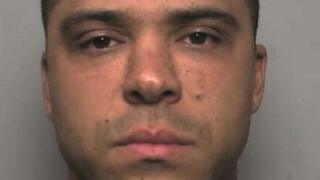 A former detective jailed for murdering his partner in front of their two young children, committed suicide in his prison cell, a jury has concluded.
Peter Foster was found hanged at Lewes Prison in the early hours of 30 July 2012, while he was on the acute healthcare ward.
Foster, 36, was jailed for life for murdering his partner, fellow police officer Heather Cooper, in 2011.
The 33-year-old was killed at the couple's home in Haslemere, Surrey.
Foster was jailed for life in June 2012 and told he must serve a minimum of 17 years for striking his partner, a Detective Constable, over the head 10 times with a baseball bat.
He had also stabbed her in the throat, before dumping her body in a shallow grave in Blackdown Woods, near Lurgashall, West Sussex.
'When, not if'
The inquest, at Eastbourne Town Hall, heard that Foster had made several attempts on his life since 2009, including two while he was on remand, and that his death was regarded by one his friends as "inevitable".
Up until five days before his death he had been on the highest level of observation, in a cell with a perspex door, because he was deemed a high suicide risk, the jury was told.
But days after he was moved to another cell where his observations were relaxed to every hour, he was found dead, the inquest heard.
Jurors were told his death came 48 hours after another inmate at the prison killed himself.
One of his friends, Jonathon Carver, said Foster had had a difficult upbringing and had been deeply affected by the murder of his father in 2009.
He told the inquest his friend was prone to bouts of depression which became worse when he drank to excess.
He said after losing his job as a police officer for committing a drink driving offence, Foster tried to take his own life and was found close to death and slumped across his father's grave.
Mr Carver told the inquest that he expected his friend to die and that it "was a matter of when, not if".
"We think that Peter's death was inevitable and that they (the prison staff) could not have stopped it," he said.
"We believe the prison did what they could for him."
A Prison Service spokesman said: "We are committed to reducing the numbers of self-inflicted deaths in custody and will consider the findings of the inquest to see what lessons can be learned, in addition to the Prisons and Probation Ombudsman's investigation."
A spokeswoman for the Sussex Partnership NHS Foundation Trust added: "Our staff working in prison healthcare work hard with the prison service to support and protect all of our patients receiving care and would like to extend our condolences to Mr Foster's family and friends at this time."