Norfolk and Suffolk police cuts may see 400 posts go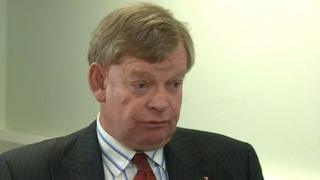 Norfolk and Suffolk police could face the loss of up to 400 police officers and PCSOs over the next four years, BBC Look East can reveal.
The cuts are needed to help meet a £36m budget shortfall.
Up to 250 of these jobs would go in Suffolk and 150 in Norfolk.
Police sources have told the BBC there are also expected to be a "significant loss" of office staff across the two forces as part of budget cuts.
'No fat left'
The plans have been criticised by the Suffolk Police Federation.
The chairman of the federation Matt Gould said: "There's no fat left to trim.
"Fundamentally we can ill-afford to lose any police officers or PCSOs from our front-line. However, if we have to make savings in accordance with the government's instructions, inevitably it will mean staff losses."
Both forces have had to produce plans on how to meet the government-set targets for expenditure.
They have collaborated on services to save money but the recent collapse of the planned merger of the control rooms, after the Suffolk Police and Crime Commissioner (PCC) Tim Passmore opposed the plan, has put fresh and urgent pressure on the two chief constables to find ways of making cuts.
The PCC of Norfolk , Stephen Bett, said: "We have got a Plan B and it will be unveiled on 4 July because we need to tell the staff before 4 July who are going to be affected."
A spokesperson for the Suffolk PCC said: "We're not in a position to discuss details of our Plan B... because it's still being worked out, it's ongoing, it's a work in progress."
The BBC has been told that Suffolk Police froze the recruitment of police officers, shortly after the collapse of the control room merger and office co-operation talks.
Had the plans gone through, they would have saved the forces a total of £4.3m a year.