European elections: UKIP strong support in the South East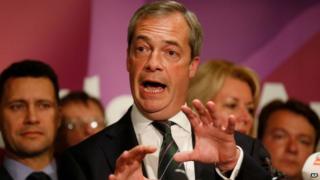 Throughout the recent election campaign the UKIP leader Nigel Farage had promised his party would cause an "earthquake in British politics" beating Labour and the Tories in the European elections.
Today he celebrated as UKIP topped the polls in most of the council areas across the South East. From Dartford through to Dover and Crawley.
The Conservatives only topped the poll in Tunbridge Wells, Tandridge and Mid Sussex - while Labour won in Brighton.
For the Liberal Democrats it was a truly terrible night. Only Catherine Bearder's re-election as South East MEP (the party's sole representative in Europe now) saved the party from complete annihilation.
Support for UKIP was particularly strong in East Kent. Almost half of everyone who voted in Margate voted for them. Nigel Farage himself joked: "We do like to be beside the seaside."
With an increase of 13% in the share of the vote in the South East, experts say UKIP's surge in popularity must be taken seriously.
'New kid on the block'
Professor Tim Luckhurst, from the University of Kent, said: "David Cameron has a really massive task on his hands - particularly here in the South East - people simply don't believe he can deliver on Europe and immigration the kind of policies UKIP are promising.
"UKIP probably can't deliver them either but the point is people think UKIP is the new kid on the block and is exciting. Mr Cameron's party looks old fashioned and jaded."
There's no doubt it was a good result for UKIP in these local elections and I think the base of support seen in the South East means it is increasingly likely we will see Nigel Farage standing in Kent - probably South Thanet.
It is very difficult to extrapolate from these results though what will happen at the General Election next year.
Even Thursday's local election results differ widely from the European results. Take the bell-weather seat of Crawley for example. Labour did really well there in the local elections on Thursday night and seized control of the council from the Conservatives. Labour said that result would put them on course to win the seat at the General Election. But just days later, UKIP topped the polls there.
I think it shows that people vote differently in local and European elections - perhaps seeing it as a chance to show their dissatisfaction with the parties in power - than they do when it comes to choosing the next government.