Tour de France Grand Depart diary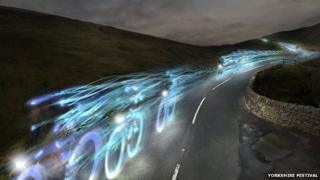 With the world's biggest bike race starting in Leeds on 5 July, BBC Yorkshire's Tour de France correspondent Matt Slater rounds up the best of the gossip, opinion and stories, and also tries to explain some of cycling's mysteries.
TOP STORIES
Cricketers stumped It will be a case of cycling stopped play as amateur cricket leagues across Yorkshire are postponing their fixtures for the weekend of 5-6 July. This will be the first time the Aire-Wharfe League has moved an entire day of games, while leagues in Craven, Nidderdale and Wetherby have already lengthened their seasons by a week to accommodate Le Tour.
Full story: The Yorkshire Post
Ghost story News of one of the highlights of the cultural festival running in the build-up to the Grand Depart, the Ghost Peloton, has reached Broadway. The cycling-meets-dance project will see 30 riders in LED light suits performing a choreographed routine against a filmed backdrop at the old Tetley brewery in Leeds on 16-17 May. The 100-day Yorkshire Festival began on 27 March and ends with the start of Le Tour on 5 July.
Full story: broadwayworld.com
Past masters There are two new additions to Knaresborough's collection of "trompe l'oeil" window murals, pictures of Yorkshire cycling greats Beryl Burton and Brian Robinson. Created by local artist Julie Cope, the murals mark the Tour's passage through Knaresborough on 6 July. Burton's daughter Denise and Robinson himself were on hand to witness the murals' unveiling, with both Beryl and Denise having ridden for Knaresborough Cycling Club during their careers.
Full story: Yorkshire Evening Post
Wool cycle The good folk of Cambridge have taken a leaf out of Yorkshire's knitting book by setting themselves the task of making 2,000 mini cycling jerseys to decorate the city for the start of the third stage of Le Tour on 7 July.
Full story: Cambridge News
Top job ITV's cycling reporter Ned Boulting is giving a talk about Le Tour at Clitheroe's The Grand on 18 May. The author of 'How I Won the Yellow Jumper: Dispatches from the Tour de France' has been covering the race on British TV since 2003, a job he says "can be the best in the world".
Full story: The Clitheroe Advertiser and Times
TWEET OF THE DAY
Former rider and current pundit Rob Hayles @robhayles1 tweets: I hear @BrianCooksonUCI is allowing bike mounted cameras in races. If true, I feel sorry for the mechanics.... but happy days for us lot!
CYCLING ROUND-UP
It is all about two races this week: the first female version of the Tour of Britain, the Women's Tour, which starts in Oundle on Wednesday before meandering through eastern England towards Bury St Edmunds on Sunday, and the Giro d'Italia, which starts in Belfast on Friday.
Sadly, two British stars have had to pull out of their respective races, Olympic champions Joanne Rowsell and Peter Kennaugh, through illness. Rowsell's Wiggle Honda team is still packed with talent, including fellow Olympians Dani King and Laura Trott, but Kennaugh's Team Sky is now looking surprisingly underpowered for a race as big as the Giro.
A TO Z OF LE TOUR
B is for…
Bidon - French for water bottle, although they are usually filled with carbohydrate-rich sports drink these days. On the really hot days in the mountains, the riders can chug their way through 20 of these.
Bonking - This is what happens when you don't eat (or drink) enough fuel, and it is horrible. "Hitting the wall" is another way to describe this but it amounts to the same thing: you go backwards.
Break - A key part of cycling's narrative, this is when one or more riders gets away from the main pack to form a small group further up the road. Nine times out of 10 these are brave but futile attempts for victory, as the aerodynamic advantages of riding in a bigger group wins the day.
Bridge - What happens when one or more riders closes the gap between a break and the chasing pack.
Broom wagon - Where no riders wants to be. This is the vehicle that drives at the very back of the field 'sweeping up' those who cannot continue any longer.
FACT OF THE DAY
Huddersfield-born Brian Robinson was the first British rider to finish a Tour de France when he completed the race in 1955. He finished in 29th place but came back the following year and ended up in 14th. He crashed out of the 1957 race but in 1958 he became the first Brit to win a Tour stage, winning a second in 1959.