U-boat strike SS Gairsoppa rescue children found
22 April 2014

From the section

England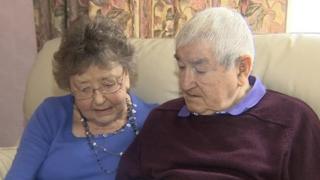 A brother and sister who helped rescue the sole survivor of a ship torpedoed by a German U-Boat have been traced to Norfolk.
British ship the SS Gairsoppa and its £150m cargo of silver sank in 1941 off the coast of Ireland.
Denis Driver and Betty Broughton pulled the crewman ashore off the Cornish coast 13 days after the sinking.
Their story came to light after a historian set about trying to find the children involved in the rescue.
'Hammered'
The vessel was on its way back to Britain from India when it ran low on fuel in stormy weather, and tried to divert to Galway harbour, but was spotted and sunk by the German submarine.
Three members of the 850-strong crew survived in a lifeboat and reached Caerthillian Cove in Cornwall two weeks later, but two died trying to get ashore.
Mr Driver and Mrs Broughton, now in their late 80s and living in Mundford, Norfolk, were among a group of child evacuees playing on the cliffs near the Lizard lighthouse when they spotted the struggling sailor - second officer Richard Ayres.
"This boat was being thrown all over the place. I can remember a body in the water being hammered against the rocks… he was obviously dead," Mr Driver said.
Mrs Broughton added: "We were going for a walk with friends… it's a very rocky cove and I just saw this boat bashed up against the rocks continually.
"At first there were several men in the boat, but after a while several of them drowned.
"We ran down and shouted at the man… somebody pulled him out of the boat. I remember I put my pixie hood around his feet because he was so cold - and I never got it back."
Mr Ayres met the evacuees several months later to thank them for saving him. He was made an MBE for his efforts in trying to save his fellow sailors, and lived until 1992.
The SS Gairsoppa belonged to the British India Steam Navigation Company, and was ordered into the merchant navy fleet at the outbreak of World War Two.
Its wreckage was not found until summer 2011 and work to salvage the cargo began early the following year.
A commemorative coin created by the Royal Mint from the silver on board is to be presented to Mr Driver and Mrs Broughton.