Miners' Strike: Calls for amnesty and inquiry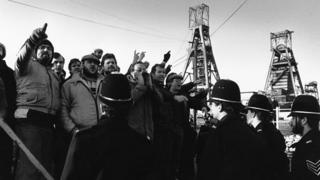 Florence Anderson had always had respect for the law and the police.
But in 1985, she was convicted of threatening behaviour while on a picket line at Eppleton in County Durham during the Miners' Strike.
It's a crime the miner's wife says she didn't commit.
Instead what she remembers are unnecessary violence and lies.
Belated justice
She said: "Two of the officers had a hold of me and punched me into the van. It was the same when we got out, just punching us out of the van.
"When I got to court, I couldn't believe the lies the police officers were telling. I may have been naïve but at the time I didn't think police officers told lies."
Florence Anderson received a conditional discharge. But she believes her and others convicted during the dispute deserve some belated justice.
She thinks there is a case for an amnesty for prosecuted pickets and for an inquiry into police tactics during the strike.
She said: "It was not just me. Ordinary people found themselves before the courts and getting convictions. Lads were sacked from pits because they were convicted.
"Every arm of the state was used against the miners and their families. It was a complete abuse of government power. It felt like living in a police state."
Picket line
Several Labour MPs in the north also believe it's time for a Hillsborough-style inquiry into whether the police and the courts were politicised during the dispute.
Although the Independent Police Complaints Commission is looking into events at the Orgreave coke works in South Yorkshire, they think the inquiry must be much wider.
Ronnie Campbell was a miner in Northumberland, and is now MP for Blyth Valley. He also has two public order convictions from the picket line.
In one he says he saw police concoct evidence, but he also thinks questions need to be asked about the courts.
He said: "All the police had to do was go in with some cock and bull story to the magistrates and they believed them. Was it because they were told by the establishment that they had to?
"If they're honest those magistrates will come out and say yes, we were told to come down hard on the miners, as hard as we could."
And his fellow Northumberland Labour MP Ian Lavery, another ex-miner and former President of the NUM, wants to see an amnesty for miners, who he sees as victims of government oppression.
He says the release of government papers from 30 years ago shows Margaret Thatcher's government were intent on picking a fight with the miners and destroying the NUM.
He said: "There was a conspiracy against the miners. Why did Mrs Thatcher and the government of the time contemplate using the armed forces against ordinary, hard-working people.
"That is why I think there should be an amnesty. The government picked a fight with the miners and they got one."
Miners accused
Others are also sympathetic to people's desire for answers. Vera Baird is now Northumbria's Police and Crime Commissioner and served as Solicitor General under the last Labour government.
But 30 years ago she was defending miners in court. Her work helped secured the acquittal of the miners accused of rioting at Orgreave.
She says there were some miners who did commit offences, but understands why others still seek justice.
She said: "I would be very interested in there being an inquiry.
"What I think is key is, are there are still people who have a sense of injustice from the way they were treated, who might deserve the relief that they would get from getting a proper answer to why they were treated in that way."
But the government has firmly rejected talk of Hillsborough-style hearings.
Michael Fallon is now Minister for Coal, but in 1984 he was a Conservative MP in Darlington - on the fringe of the County Durham coalfield.
He thinks it's time the North East moved on.
He said: "I think it would be wrong to put the Miners' Strike alongside events that did demand an inquiry such as Bloody Sunday and Hillsborough where there was significant loss of life.
"We know what the causes of the strike were, we know how it ended and we should leave it there.
"In my view the most significant event of that year for the North East was not the Miners' Strike, it was the arrival of Nissan in Sunderland."
And so far the Labour leadership has shown little enthusiasm for a public inquiry. It's a time Labour leader Ed Miliband may not be keen to revisit.
But for others the wounds from the Miners' Strike remain open and won't heal until they get answers.
Florence Anderson, for one, still wants answers, and what she sees as justice.
She said: "I realised democracy was paper thin. When a government can abuse their powers to oppress people and destroy communities, it's frightening.
"It may be 30 years on but in my view it's never too late for justice."