Eastbourne custody figures drop with mental health nurse scheme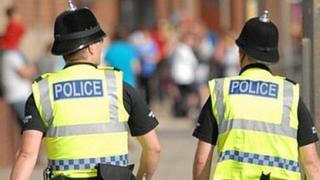 Fewer people have been taken into custody in a Sussex town since a pilot scheme began where a mental health nurse is taken on police call-outs.
Sussex Police is taking part in the street triage scheme where nurses go on patrol and are in the control room.
The trial is taking place in Eastbourne to improve how those with mental health issues are treated in emergencies.
Police force figures show a 44% fall in people detained in custody for their safety since it began last October.
The year-long pilot schemes are funded by the Department of Health and backed by the Home Office.
Four-month period
They were launched after a joint investigation by Her Majesty's Inspectorates of Constabulary and Prisons, the Care Quality Commission and the Healthcare Inspectorate Wales, which called for a rethink of how powers were used to detain people in a "place of safety".
Sussex Police was found to have a higher number of people with mental health issues taken into custody compared with other forces in the South East.
In the past, police would use a Section 136 order to detain people for their own safety although they had not committed a crime.
Since the launch of the pilot, Sussex Police said it was called to 180 cases with 155 people assessed.
Of those where previously Section 136 orders would have been used, 63 have been avoided, the force said.
In a four-month period before the pilot, between October 2012 and January 2013, 77 people were taken into custody, with a further 27 taken to a hospital suite.
In the the same four-month period after the trial began, 43 people were taken into custody and 35 were sent to hospital.
Sussex NHS Partnership said the number of people admitted to the hospital suite may have gone up because it is used by police in other parts of Sussex.