Where will Boris stand as an MP?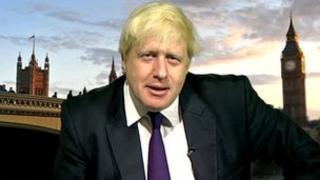 David Cameron says he wants Boris Johnson "back on the pitch" in the House of Commons as an MP in 2015 even though he should still be London Mayor.
He has billed it as the manager's vote of confidence in a star striker. But is it as simple as selecting a player for the big match ahead? And where will he want to build a new power-base?
What about north-west Hampshire? In December, chief whip and former Leader of the House Sir George Young told his constituency association that he intended to stand down at next year's election.
The bookies now have the seat as 9/2 favourite in the list of possibilities for Boris ahead of Richmond Park at odds of 8/1.
Deputy chairman of the association Cathy Ossleton tells me they'll be doing the initial sift of applications in May, for a selection in June or July.
'Go down a storm'
She says "Until we start our selection process I'd rather not speculate about who might or might not apply.
"But on a personal point I would be very happy to have Boris as our MP. He would be a strong replacement for Sir George, who has been excellent."
Ms Ossleton doesn't seem concerned about having two old Etonians in a row and is insistent the association hasn't had any contact from prospective candidates yet.
North West Hampshire Conservatives seem surprised to be favourite with the bookies, the odds of 9/2 have been offered even before Sir George Young said he was standing down. They won't confirm publicly that Boris is interested, but in the sitting rooms of pretty villages like Stockbridge and the Candovers it's clear they think Boris would go down a storm.
'Same river'
While the London Mayor has thrived in the smoke of the capital he also enjoyed the charm of the countryside in his former constituency of Henley-on-Thames which he represented from 2001 to 2008.
He kept his country home there even after standing down.
When he resigned after winning the mayoral election David Cameron limited selection for the by-election to local councillors, which seemed strange for a very safe seat, previously represented by cabinet ministers including Michael Heseltine.
The bookies have a return to Henley at odds of 10/1. But that may be misleading.
The association selected John Howell as Boris' replacement, and he's been furious at suggestions he may have to stand aside for a triumphant return.
In fact, he says he has had a call from the London Mayor assuring him he's not interested. Mr Howell says Boris stressed he "wouldn't want to swim in the same river twice".
Some who'd studied Boris' tangled love life may feel that he's not always lived by that motto, and David Cameron's seeming support may just be a way of keeping his rival in check.
But now the moment for a move is approaching fast.