South West cash 'to fix three million potholes'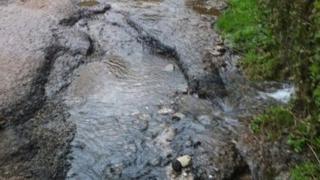 Enough money to repair an estimated three million potholes has been shared out between councils in the South West.
The £46.7m of cash is part of a £183.5m "exceptional payment" from the government to help with road repairs damaged by the winter weather.
Somerset is to get £12.3m - in addition to the £10m pledged on 6 March - and Cornwall nearly £10.8m.
Nine other councils including Dorset, and Bath and North East Somerset, share just less than £3m.
Damage 'particularly severe'
Normally local authorities have the responsibility to repair non-trunked roads but the cash will pay for the extra damage to surfaces caused by the heavy rain.
In many areas the extent of the damage only became apparent after flood waters had receded.
Transport Secretary Patrick McLoughlin said damaged roads had caused "misery for drivers and local communities" adding the severe weather had made the problems worse.
"This extra money will help make a real difference to the millions of road users and residents across the South West who rely on local roads, giving them safer and smoother journeys," Mr McLoughlin said.