'Alabama Rot' dog death disease claims 13th victim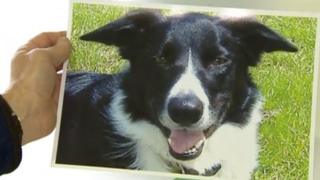 A dog in Northamptonshire has become the 13th to die in the UK from "Alabama Rot" since December, the Forestry Commission has confirmed.
The disease affects the animals' liver and its cause is not yet known.
The latest victim was a Jack Russell terrier treated at the Towcester Veterinary Centre, which may have picked up the disease in the Salcey Forest area, a vet said.
Seven of the other affected dogs were from the New Forest area of Hampshire.
Cases have also been confirmed in Yorkshire, Monmouthshire, Dorset, Shropshire and Surrey.
'Frustrating and worrying'
Tests are still taking place on a further 19 suspected cases of the disease.
Alabama Rot, or cutaneous and renal glomerular vasculopathy (CRGV), was first identified in the US in the 1980s.
Initial symptoms can include lesions or wounds on legs, paws and faces.
Over the following two to seven days, dogs develop clinical signs of kidney failure which can include vomiting, reduced appetite and tiredness.
A spokeswoman from the Towcester Veterinary Centre said the three-year-old terrier had to be put to sleep on 28 February.
Test results confirmed the cause of death on Monday.
"The most frustrating and worrying thing is that the cause is unknown making it impossible to give advice on prevention," she added.
The investigation into the exact cause of the dogs' deaths is being led by Hampshire-based Anderson Moores Veterinary Specialists.
They are working with a number of other agencies including the Forestry Commission, the Environment Agency, Suffolk-based Animal Health Trust and local vets.
The Forestry Commission has posted signs in potentially affected areas warning dog owners to be vigilant.