Kevin Roberts' daughter campaigns against killer's leave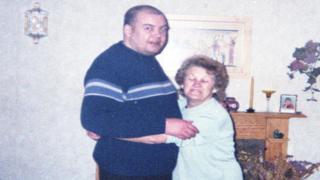 A killer's daughter, who fears he would threaten her life if he is released, is campaigning against him leaving secure hospital.
Faye Howlett acted after she discovered Kevin Roberts, who has schizophrenia, was given unsupervised leave.
Roberts admitted manslaughter in 2006 after battering his mother to death in Whitchurch, Shropshire.
Ms Howlett, who has a 9,000-signature petition, has now been told his leave has been temporarily suspended.
Roberts pleaded guilty to manslaughter on the grounds of diminished responsibility and was detained by mental health services indefinitely.
Birmingham visit
He was allowed unsupervised leave following a full risk assessment by senior medical staff and the approval of the Ministry of Justice.
Ms Howlett fears he will return to Whitchurch and believes he could kill again, adding "I'm scared it'll be me, my mum, my auntie and my daughter".
Ms Howlett said: "They say he's getting better but my dad has played the system since '89 and he knows exactly how to behave... but he knows that once he's killed again he'll have nothing to lose."
She created an online petition and Facebook page and has been handing out signing forms in Whitchurch.
She said: "I've got 9,500 people supporting me up to now.
"I have told the Ministry of Justice that if I get to 10,000 if no one's helped me by then and put an end to my dad's leave then I will go to London to protest until someone takes me and my family seriously."
Birmingham and Solihull Mental Health NHS Foundation Trust, which originally housed Roberts, said their patient assessments were "thorough".
After Ms Howlett discovered he was allowed leave to go shopping in Birmingham city centre a Ministry of Justice spokesman said "the safety of victims and their families is paramount" in decisions to allow community leave.
Ms Howlett said: "They've put a stop on his leave for the time being, how long for I don't know, but that's probably just for his safety because that many people hate him."