Norfolk and Suffolk police control room merger: PCCs disagree
27 February 2014

From the section

England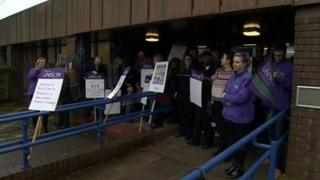 Norfolk and Suffolk's police and crime commissioners (PCCs) have disagreed over plans to merge the two forces' control rooms.
Under the proposals, aimed at saving £1.8m a year, emergency calls from both counties would be answered at Norfolk Police HQ in Wymondham.
Tim Passmore, Suffolk's Conservative PCC, said no decision would be taken without full public consultation.
But Norfolk PCC Stephen Bett said: "It's the only plan we've got."
Seventy jobs could be lost if the merger plans go ahead.
David Ellesmere, Labour leader of Ipswich Borough Council, said they could have a "devastating" effect on the safety of people in Suffolk.
"The merger of the two control rooms has not happened anywhere else in England and it has not been proven that it can work with police," he said.
Control room staff protested at a meeting of the Norfolk/Suffolk Collaboration Panel at Suffolk Police headquarters at Martlesham Heath, near Ipswich.
More than 200 people attended the public part of the meeting.
Lisa Brown, a Suffolk Police control room supervisor, said local knowledge was vital among staff.
"Not everyone can know every single place but we work as a team and collectively pull together," she said.
"When you've got officers responding to a life or death emergency they need to know where they're going."
A second proposal would move back office staff from Norfolk to Suffolk in a bid to save £2.5m a year.
The two forces need to close a funding gap of £36m over the next four years.
They already share some functions, enabling them to save £24.5m since April 2011.
After the meeting, Mr Bett, Norfolk's independent PCC, told BBC Look East: "There's a difference of opinion between myself and Tim Passmore.
"He feels that we can make all these savings in Suffolk. I feel that we have to have a regional look at where we're going.
"Suffolk won't be able to make these savings on their own."
Mr Passmore said: "What I'm not prepared to do is make fundamental decisions like this that may be against Suffolk's interests unless I have got all the complete information.
"I want to be sure what is best for Suffolk in the round. It's not just the control room; you have got to look at all the other dimensions."
Yvonne Cleary, regional organiser for Unison, said: "We are pleased with the guarantee that the people of Suffolk will be consulted before such a risky experiment is undertaken.
"The safety of the Suffolk public must come first in any decision-making process."