Tamar bridge and ferry tag increase approved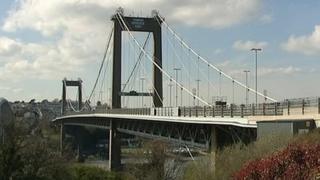 Plans for a monthly charge to motorists who use a toll route discount scheme have been approved by one of the councils that runs the crossing.
Plymouth City Council has approved charging drivers 80p a month from April to use electronic tags to cross the Tamar Bridge and Torpoint Ferries linking Devon and Cornwall.
Crossings co-owner Cornwall Council is to debate the plans on Tuesday.
The bridge and ferry together collect more than £9m in tolls each year.
Tolls at the crossings were last increased in March 2010, with the Tamar Tag electronic payment scheme being introduced in 2007.
The current toll is £1.50 for cars, or 75p for tag users, and the new fee could raise an extra £506,000 a year.
A spokesperson for the Tamar Bridge and Torpoint ferry joint committee previously said it was the second largest such system in the UK (after Dartford) with some 95,000 tags issued against 65,000 accounts.
Managers had pledged that if the tag levy was approved, crossing charges would remain fixed for the next three years.