Diver Christopher Vanstone dragged to surface, inquest hears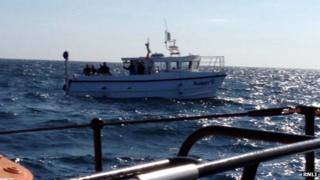 A man told an inquest how he dragged his diving buddy to the surface after he got into difficulties in the water.
Neil Cope was diving with Christopher Vanstone, 49, about 17 miles (27km) off Great Yarmouth, Norfolk, when he noticed his friend was in trouble.
After dragging him to the surface, he attempted to resuscitate him but Mr Vanstone, of Brixton, London, was later pronounced dead.
Norfolk coroner Jacqueline Lake concluded his death was accidental.
The inquest in Norwich heard the two men were diving on 30 August last year.
They had dived together for more than five years, and the four other divers on the trip were also experienced.
Mr Cope told the inquest that during the early stages of the dive, he noticed Mr Vanstone was in difficulties and did not have the mouthpiece of his breathing apparatus in.
They were about 28m (91ft) below the surface at this point.
'Competent, calm, organised'
Mr Cope said he used his own back-up supply to provide Mr Vanstone with air, but there was little response from his friend.
He then dragged Mr Vanstone to the surface where he and George Buxton, skipper of support boat Raider 5, performed CPR for 40 minutes until a rescue helicopter arrived.
Despite their efforts, Mr Vanstone was pronounced dead on arrival at the James Paget Hospital, Gorleston.
Mr Buxton, a trained first-aider, said he was good friends with Mr Vanstone, who he described as a "very competent, calm and organised diver".
Expert witness John Ingle, who was instructed to examine the equipment used in the dive, ruled out any failure or malfunction.
He could not explain why Mr Vanstone had come off his original air supply.
'We'll never know'
Det Insp Darryl Skuse, of Suffolk Police, told the inquest how video footage from Mr Cope's diving camera gave a very clear picture of what had gone on and matched the statements given.
He said there was no crime for police to investigate.
A post-mortem examination found no evidence of natural disease or assault and that the cause of death was drowning.
The coroner said the reason for Mr Vanstone losing his original air supply was "something we will never know".
She said everyone involved had sufficient training and their equipment was sound.
She added she was satisfied that the emergency services would not have been able to do anything more had they arrived sooner.