Yorkshire fire crews deployed to flood-hit south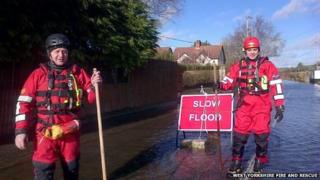 Fire crews from Yorkshire have been deployed to flood-hit areas in Somerset, Berkshire and Surrey.
Crews from West, South and North Yorkshire have been sent along with some of the region's high volume pumps.
The three fire services said they were responding to requests for "mutual aid" and the deployments would not affect cover in Yorkshire.
The crews are helping rescue people from flooded properties and with pumping and sandbagging operations.
'Moment of need'
Dave Walton, assistant chief officer at West Yorkshire Fire and Rescue, said: "To be part of such a massive relief effort is very rewarding for those involved and I would like to thank them on behalf of the people that they are assisting."
Peter Lau, who is responsible for the crews working in Berkshire, said: "One couple stated that they will never forget that West Yorkshire came to assist in their moments of need."
South Yorkshire Fire and Rescue said one crew had been dispatched to Taunton, Somerset, last week to help with pumping operations.
The brigade said it had dispatched a second crew to Berkshire on Thursday after an "urgent" request for assistance.
Mick Mason, from the service, said: "We replied immediately, and a crew was deployed on Thursday morning, with further crews available to go at a moment's notice if needed."
Mr Mason said the crew would be based at Cookham Dean on the banks of the Thames.
A crew from Richmond in North Yorkshire have also been sent to the south with one of the county's two high volume pumps.
Dave Dryburgh from North Yorkshire Fire and Rescue said: "The high volume pump can effectively pump water over kilometres and probably four or five times the amount a normal fire appliance can."
Crews are being provided with accommodation and meals by the services that have requested support.