UK fugitives: Eight wanted men sought in Netherlands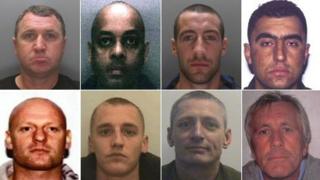 Some of the UK's most wanted men thought to be on the run in the Netherlands have been named by the National Crime Agency (NCA).
The fugitives include Robert Gerrard, 50, and Michael Moogan, 28 from Liverpool, wanted for allegedly importing "huge quantities" of drugs.
They are believed to be linked to a Rotterdam cafe raided as part of a European investigation.
Police believe it was a front for drug traffickers arranging transportation.
A third man from Liverpool, Mark Fitzgibbon, 42, is wanted for supplying, processing and transporting drugs.
Officers seized 84kg of cannabis and 58kg of amphetamine at an address in Liverpool in September 2004.
Hank Cole, head of operations for the NCA, said that along with their partners they would "continue to pursue fugitives relentlessly".
Mr Cole said: "Many believe they can use the Netherlands as a base to continue their illegal activities, which still have an impact on the UK, but they are finding out that it is not a safe haven."
He said last year 20 fugitives were captured in the Netherlands and brought back to the UK.
Drug trafficking
The other wanted men include:
Thomas Tooth, 29, from Manchester, is wanted for unlawful wounding in February 2008. Tooth was drinking at the Angel pub in Royton when he was involved in a dispute with a man who was left with permanent damage to his left eye.
Liam Fynes, 56, from Manchester, is believed to be involved in international drug trafficking. Cannabis, diamorphine, ammunition and drug equipment were found at his home in May 2004.
Mark Liscott, 53, originally from Birmingham, is believed to be involved in the distribution of drugs, working with organised crime groups in Nottingham and London. He served part of a sentence for drugs offences then breached his licence.
Rezgar Zengana, 31, is wanted by police in Scotland for raping a 25-year-old woman after posing as a taxi driver. He was convicted of rape but has not been sentenced.
James Tarrant, 58, is wanted by the Metropolitan Police after he was convicted in his absence of drugs and firearm offences. Police found cannabis, blocks of cocaine, a handgun, approximately £5,000 and body armour at his home in Essex in 2009.
Operation Return involves the NCA, Crimestoppers UK, and Bel M (Dutch Crimestoppers) and Netherlands law enforcement agencies.
It follows the success of Operation Captura in Spain and Operation Zygos in Cyprus, where 65 out of 85 fugitives have been arrested.