Why charities are counting the costs of council cuts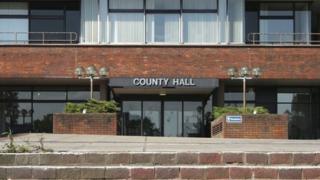 Stand by for yet another spike in the number of reports of further council cuts (or savings) leading to the loss of yet more local jobs and services.
It's the time of year when local authorities decide their budgets for the next 12 months, with an extra tightening of the belt dictated by George Osborne's Autumn Statement two months ago.
But how are we to separate well-founded fears about the real impact of the austerity measures, from the torrents of political rhetoric on both sides of the argument?
One minute council leaders predict "the end of local government", the next ministers warn them they must live within their means.
I recall being challenged by BBC Midlands Today viewers after a report about cuts to council tax benefits. I explained the impact they might have on local claimants.
More 'essential'
"What about us, the taxpayers, who foot the bill for all this?"
That was the challenge registered again and again in my inbox and in that of the programme itself.
Some viewers argued that with the age of austerity had come a long overdue opportunity to tighten-up on benefits and non-essential council services.
And there's the rub.
How to distinguish between those areas of local spending which are more "essential" than others.
The clearest definition is between statutory services like schools and refuse collection or disposal, and non-statutory ones including many of the adult services.
Worcestershire County Council will decide next week whether or not to take £29m out of their budgets next year. Almost half, £13m, would come from Adult Social Care services, principally for elderly people and those with disabilities.
Public satisfaction 'increased'
One leading local charity could lose 50% of its funding from the council. West Mercia Women's Aid (WMWA) has been helping victims of domestic abuse, acting, in effect, as an agent of the council itself.
WMWA warn this would lead to a scaling back of the support offered to recovering victims as well as slower response times from their 24-hour helpline.
But the Communities and Local Government Department says it's all part of the drive to ensure everyone in the public sector does their bit to help pay down the deficit.
"Councils are successfully managing their budgets," says a spokeswoman.
"And, public satisfaction with public services has increased while council tax bills have been falling in overall real terms."
The department also points out that the average reduction in public sector spending power is 2.3%. Worcestershire County Council's reduction is 1.4%.
Joining me in the studio for this week's Sunday Politics programme will be Jan Frances, WMWA's, chief executive; Jeremy Wright, Conservative MP for Kenilworth and Southam; and John Spellar, Labour MP for Warley.
And I hope you will join us to, from 11:00 on BBC One Midlands this Sunday 9 February.