What some people miss about home while living in London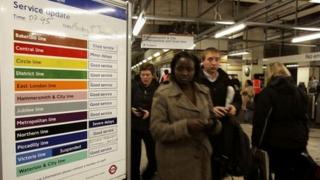 People have been sharing their thoughts on London life after BBC News asked what people who move there from other areas of the country miss about their home towns and cities.
It followed a report about the number of people aged between 22 and 30 heading for the capital, many of them never to return home.
Chips and gravy made it on to the original shortlist and readers have offered plenty more food for thought.
Tony Lusiola, originally from Hull, misses "American chip spice", while Gaynor King, from Leeds, rues the lack of decent pork pie in the Big Smoke. "Another one is northern fish and chips," she says.
"Cooked in dripping as opposed to the oils they use in London which leave the food pale, greasy and soggy as opposed to northern brown and crispy."
Damian Crawford, who moved from North Yorkshire in 1991, keeps the chip shop theme going. "I miss getting scraps with a portion of chips," he says.
For those yet to have the privilege, he explains: "Scraps are the pieces of batter left from frying fish, which they sprinkled on your chips. They taste great with lashings of vinegar."
Elsewhere, there were knowing nods from readers to other original suggestions including starry skies and doing "the big shop".
Helen Gore, originally from St Helens, was the first of many to get in touch longing for a "quick chat with a stranger without being labelled a weirdo". For good measure, she adds: "Lots of Londoners on the Tube seem to have forgotten the power of 'excuse me', and barge right into you."
Sarah Willis, who moved to London from Yorkshire, says: "I liked being able to say 'good morning' to people or exchanging a few words with the shop assistant without being looked at with suspicion."
Steffan MacMillan misses "calling on friends unannounced", and for Alex Clark, from Wakefield, a "huge bugbear" is "people taking service at the bar out of turn".
Some readers, however, can not exactly be described as homesick. Steven Pearson says: "What do I miss about my home town Mansfield? Absolutely nothing! I came to London four-and-a-half years ago and I'm never returning up north."
Duncan Fairbrother is in the same camp. "I moved to London from Bristol six years ago," he says. "I love London and don't miss a single thing about Bristol. I wouldn't live anywhere else now."
Marck Lester, originally from Birmingham, says: "London has a certain energy, vibrancy, ambition, motivation to succeed and extravagance to it that cannot be found elsewhere in the UK.
"As sad as it seems, it's just a few childhood memories, moments of nostalgia and family and friends that I miss about back home."