Norfolk helicopter crash: Funeral for Christopher Stover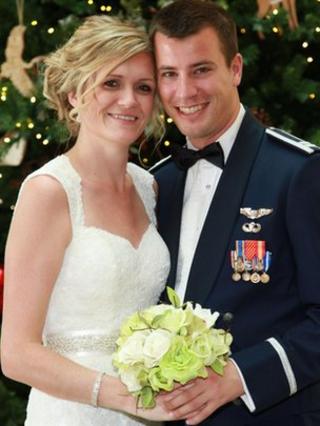 The funeral has taken place for one of four USAF aircrew killed in a helicopter crash in north Norfolk.
Capt Christopher Stover, 28, died when a HH-60G Pave Hawk from the 48th Fighter Wing at RAF Lakenheath in Suffolk, crashed at Cley on 7 January.
A service was held on Monday at the USAF Academy, Colorado, where Capt Stover had trained.
His widow, Sarah, said the short time she was married to Capt Stover had been "worth every second".
The couple had been married for just over two years.
Capt Stover served in Iraq and Afghanistan before being posted to RAF Lakenheath in July 2013.
Senior researcher Dr Geoff Anderson said the captain had been "a delight to teach" with "a gift for innovative thinking and problem solving".
Capt Sean Ruane, Technical Sgt Dale Mathews and Staff Sgt Afton Ponce also died while taking part in a routine training flight.
The helicopter wreckage, including a "significant" number of ammunition from the crashed aircraft, was scattered over an area the size of a football pitch at Cley nature reserve.
Col Kyle Robinson, Commander of 48th Fighter Wing, has said no warning or Mayday message was received from the helicopter.
An investigation into the cause of the crash is expected to take several weeks to reach its conclusion.