David Irving cycle crash death: Sun 'blinding', court hears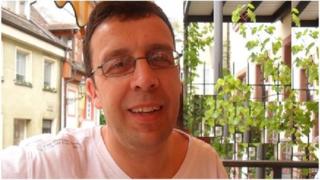 Weather conditions on the day a cyclist died on a busy commuter road were "blinding", the trial of the driver accused of killing him has heard.
David Irving, 48, of Dorset, died when he came off his bicycle on Mountbatten Way in Southampton on 17 December 2012.
The city's crown court has heard minibus driver Steve Petterson, 38, who denies causing the cyclist's death, clipped Mr Irving with his wing mirror.
Witness Clive Jones told the court the sun had affected visibility that day.
'Just a whiteout'
The commuter, who was riding his scooter at the time of the crash, told the court: "I was doing about 40mph, no more than 45mph.
"It was blinding. My first reaction, if I couldn't see, was to take my hand off the throttle. I was concerned about traffic going into the back of me.
"It all happened in such a quick time. It was just a whiteout.
"I couldn't really see anything at that point. Even with my sun visor pulled down. It was the glare that just hit me."
38 rib fractures
Mr Jones added that he was later able to "just make out tail lights" and he realised something had happened.
"In a split second, to my left, that's when I thought I saw a person in the road.
"I wasn't aware it was a cyclist. I hadn't seen the cyclist prior to the accident."
Mr Irving, from Wimborne, suffered a head injury consistent with being hit by a wing mirror, as well as 38 fractures to his ribs, caused by him being run over, the court has heard.
Mr Petterson denies causing death by driving without due care and attention.
The trial continues.