Whitchurch Bridge rebuild delayed by Thames floods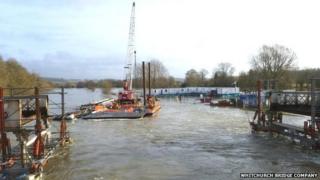 Work to rebuild a bridge across the River Thames will be delayed by three months because of recent flooding.
Whitchurch Bridge between Berkshire and Oxfordshire was due to reopen in April but contractors have confirmed it will now not be ready until July.
Its operator says it "regrets the inconvenience" the delay will cause to residents and local businesses.
Around 6,000 vehicles a day use the 112-year-old toll bridge between Whitchurch-on-Thames and Pangbourne.
Corroded and rusted metal elements are being replaced during the bridge's £4.3m reconstruction which began in October.
Mike Beckley, chairman of the Whitchurch Bridge Company, said: "We will continue to press contractor Balfour Beatty to complete the works as soon as possible."
Work had been due to finish on 14 April. Balfour Beatty will announce an exact date for the July reopening at a later stage.
Traffic will continue to be diverted over bridges either side of Whitchurch at Caversham and Streatley.