Zulu war artefacts go under hammer in Lewes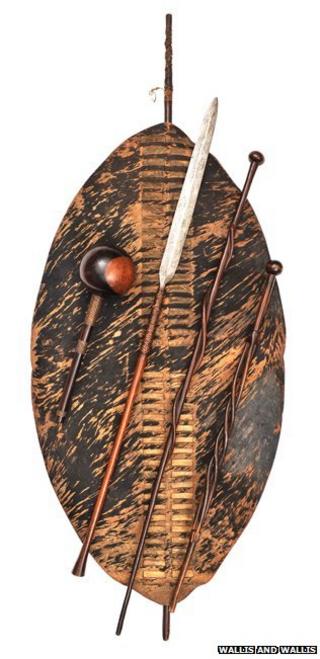 A collection of artefacts from the Anglo-Zulu war have been auctioned in Sussex on the 135th anniversary of one of the conflict's most famous battles.
War shields, stabbing spears and staffs were among the 154 lots being auctioned by Wallis and Wallis in Lewes.
The auction was on the date of the Battle of Isandhlwana in 1879 in Zululand, South Africa, with the items fetching a hammer price of £95,485.
The collection was owned by David Smith, from Kent, who had died.
The items include a Zulu regimental war shield, a knobkerrie - a type of club, thought to be an executioner's weapon, a stabbing spear called an iklwa, and two hardwood status staffs.
Historian and writer Ian Knight was cataloguing the collection.
Talking about the iklwa, he said: "It is a very iconic weapon, it is very tied up with Zulu culture, Zulu concepts of being a warrior and, indeed, with the history of the nation.
'Special sale'
"It was through this spear that the Zulu nation was built and it was with this weapon that they went up against the British in 1879."
George Wood, of Wallis and Wallis, said they had been expecting the lots to fetch £100,000.
He said: "We were particularly surprised and pleased with the figure.
"We only occasionally get a special sale like this."
Mr Wood said there had been mix of internet and telephone bidders as well as people at the auction house, with some coming from overseas.
He added that some of the items had been bought by people from South Africa.
Eleven VCs
Carol Slater, of the KwaZulu-Natal provincial government in South Africa, said: "It is a bit like the Elgin marbles where people want them to come back to where they belong.
"There is a sense that they should not be out of the country, there is a sense of bringing them home, to where they belong."
Mr Smith began collecting the artefacts after he was inspired by watching the film Zulu, made in 1964.
The 1879 South African battle of Rorke's Drift was immortalised in the movie, starring Sir Michael Caine and Stanley Baker.
It recounts the battle when 150 British soldiers held off around 4,000 warrior tribesmen whose land they had invaded.
Eleven VCs were awarded for the defence, more than for any single battle before or since.