William Roache trial: Girl 'humiliated and ashamed after rapes'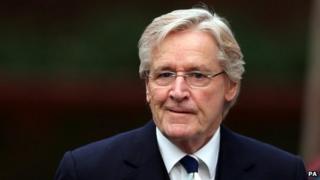 A woman has told a court she was left feeling "humiliated, disgusted and ashamed" after being raped by Coronation Street star William Roache.
The woman, now 62, told Preston Crown Court two alleged rapes took place at his homes in Haslingden, Lancashire, on separate occasions.
She suffered depression for several years afterwards, the jury heard.
Mr Roache, 81, from Wilmslow, Cheshire, denies two counts of raping a 15-year-old girl in 1967.
He also denies five counts of indecent assault involving four girls.
Those alleged offences involve girls aged 16 or under in Manchester between 1965 and 1971, the court heard.
'Buried for years'
During cross-examination, the woman said she could not remember Mr Roache saying anything after the second alleged rape.
She said she had been invited into the cottage but was under the impression that an elderly woman was living there.
Louise Blackwell QC, defending, asked her if she was worried she was pregnant.
The woman replied: "I don't think I knew enough then. I didn't realise the implications.
"They didn't talk about those things in them days."
She added: "I should have known that I should not have trusted him."
Asked what she did in the hours that followed the alleged attack, she said: "I can't remember exact details, you just want to close your mind to them.
"I never thought that I would have to repeat them. I have buried these for 47 years."
Piers Morgan interview
The woman agreed she changed her mind about her age at the time of the attacks. She initially said she was 14, although now states she was 15.
Challenged by Miss Blackwell, who said the reason she got it wrong was that she was not telling the truth, the woman replied: "Sometimes I can't remember what I said yesterday.
"I have not forgotten anything about the main events, believe me."
The woman said she had continued to watch Coronation Street after the alleged rapes as there was "no threat when he is on television".
She told the court she watched an ITV Piers Morgan's Life Stories interview with Mr Roache which "made her skin crawl" when he discussed his love life.
The court heard that the woman did not give her name when she first approached police.
Asked why by prosecutor Anne Whyte QC, she said she was "ashamed", adding: "I didn't want my name in the papers. I wasn't even sure it was confidential."
Giving evidence, her son said his mother opened up to him after a discussion about recent high-profile abuse cases.
He said he was "very angry", but his mother "frustrated" him more. During the conversation, his mother told him Mr Roache was "not a monster" and had not physically hurt her.
"It made my blood boil because she was kind of defending him, if that makes sense", he said.
He told the court he was persistent in telling her to go to the police and admitted he was like "a dog with a bone".
"I said there could be other people like this", he said.
The trial continues.