Flooding sparks new River Thames bridge talks
15 January 2014

From the section

England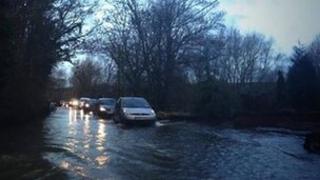 Discussions into plans for a new road bridge across the River Thames at Reading have reopened.
Plans for a third bridge from Caversham to Reading were last mooted in 2007 but were shelved due to a lack of funding.
Pressure for a new bridge is now growing following a week of long delays after flooding closed Sonning Bridge.
However, some residents and councils are concerned a new bridge would lead to high levels of traffic through South Oxfordshire.
Plans for a new bridge first surfaced in the 1960s.
More than 1,000 people have now signed a petition for a third bridge to be built in Reading, connecting the A329M to Caversham.
'Major traffic problems'
Rob Wilson, Reading East MP, has welcomed the idea and estimates the cost would be up to £100m.
He added Reading was the "powerhouse" of the Thames Valley region and said "we have to make sure that Reading is successful".
Mayor of Henley Stefan Gawrysiak said a new bridge would help ease "major traffic problems" in Henley-on-Thames.
However, Henley MP John Howell said there was still "a lot of opposition" to the proposals.
Reading Borough Council has blamed the failure of earlier attempts for a third bridge on Oxfordshire County Council and South Oxfordshire District Council.
Councillor Tony Page, deputy leader of Reading Borough Council, said the two authorities were "implacably set against it".
He added a new bridge would act as a "relief" for the existing Caversham, Reading and Sonning bridges.
'Flood alleviation'
Ian Hudspeth, leader of Oxfordshire County Council, described Mr Page's suggestion as "disingenuous".
He said one concern was plans "would open up the A4074 as a cut through from Oxford to the M4".
However, he added he was willing to reopen talks to "find a solution that best suits everybody".
South Oxfordshire District Council said a new bridge would bring "an unacceptable amount" of traffic in to the area.
In a statement, it added it recognised alternatives needed to be explored and said it would continue to work with local authorities on both sides of the river.
"Given that the recent Sonning Bridge closure resulted from flooding, we would expect the emphasis to be placed on flood alleviation rather than making changes to the transport network," it added.