Councils set to defy government's tax freeze appeal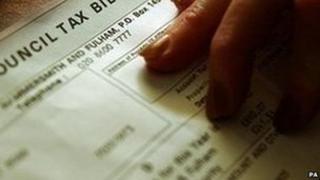 The government has promised a council tax freeze - but many local authorities don't appear ready to deliver it.
A number of northern councils in particular say they simply can't afford to leave bills unchanged.
Darlington is one of those preparing to increase council tax by 2%.
It's the fourth year in a row that the council has rejected a government offer of extra money in return for freezing the bill.
The Labour authority says the sums just don't add up.
If the council agrees to a freeze Local Government Secretary Eric Pickles will hand Darlington the equivalent of a 1% rise in council tax.
Not only will that not raise as much money as a 2% rise, that funding is only guaranteed for two years. If it then drops off the council's budget, councils will either have to raise tax revenue or make more cuts to make up the shortfall.
Council leader Councillor Bill Dixon said: "I realise it is a lot of money for people on benefits when other charges are also going up. I am acutely aware of that. But something like 60% of our spending now goes on adult social care so there is no way we can bring the budget in without affecting areas people don't want us to cut. We need that money."
Darlington's Conservatives believe Labour should have accepted the freeze in previous years, but even they believe a rise is inevitable this year.
Group leader Councillor Heather Scott thinks Labour could be doing more though to offset cuts.
She said: "We have major concerns as they are also preparing to raid balances in the next two years. We are in a very serious situation and they have got to look at more innovative ways of providing services and working more with other organisations both in the public and private sector."
Prepared to freeze
Darlington is far from alone though among northern councils.
So far North Yorkshire, Northumberland, Cumbria, Middlesbrough, Durham, Redcar and Cleveland, Carlisle, Allerdale, and Copeland have said they are considering rises of 2% or slightly below.
Some are prepared to freeze - Newcastle, North Tyneside and Hartlepool - but they look likely to be in the minority.
Even the council tax in those areas could go up, if the local police and crime commissioners decide they want to raise their slice of it.
Some though have yet to make a decision.
Gateshead Council has been consulting local people on whether they would be prepared to pay more.
It has to find £45m of savings in the next two years. Services are under threat. One proposal could see funding for the area's Sure Start children's centres halved.
Parents have begun campaigning against a plan they fear will lead to centres shutting.
Mum Sarah Muller is amongst those who've collected 3,000 signatures for a petition.
She said: "Some mums are feeling quite desperate at the moment, fearing the centres might close. Mums who have used the centres in the past and have second babies on the way like myself are just panicking, thinking about what we are going to do."
But she is not sure she'd be able to pay much more council tax to help prevent cuts.
She added: "It depends on how much it was, but my husband hasn't had a pay rise for four years, and I had to give up work to look after my son, so it would be tough."
No choice
And when I took to the streets of Gateshead, reaction to the idea of a council tax rise was mixed. While some were prepared to stomach a small rise to protect services, others wanted to see the bill cut.
One local Labour MP though believes many northern councils have no choice.
Blaydon's Dave Anderson said: "If we had the same funding as other parts of the country it wouldn't be an issue. But if they do have to raise council tax then to an extent I would support them.
"If the only way they can protect vital services is to ask people to pay a bit more, then we should have the bottle to ask people if they're prepared to do it."
The government insists councils can still find savings without hitting the front line, and it believes local authorities should be freezing bills at a time when wages aren't going up.
And there is still something Eric Pickles could do to impose his will. Last year councils were told they'd have to have a local referendum if they proposed a tax rise of more than 2%.
This year, Eric Pickles has yet to announce a limit for what might trigger a referendum. Many councils have assumed it will still be 2%. But should the Local Government Secretary impose a lower cap - 1% perhaps - his freeze offer might yet get more takers.
For the moment though, for all the talk of a council tax freeze, it seems likely that many of us will see our bills rise from April.