Former Liverpool and Oldham Athletic player Wayne Harrison dies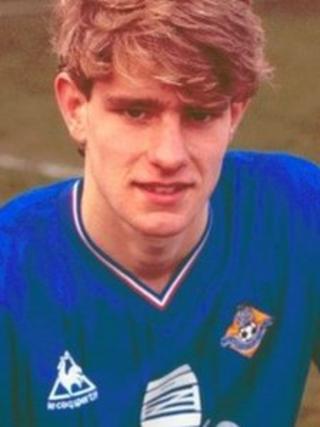 Former Liverpool footballer Wayne Harrison has died at the age of 46 following pancreatic problems, the club has said.
Harrison was described by the Reds as the world's most expensive teenager when the striker signed from Oldham Athletic for £250,000 in 1985, aged 17.
A series of injuries and accidents led to his early retirement in 1991.
A club spokesman said Harrison, from Stockport, died in hospital on Christmas Day.
Joe Fagan, Liverpool manager at the time of his signing, put in a record bid for Harrison after he scored twice to help Oldham beat the Reds in the FA Youth Cup in December 1984.
Harrison's career at Anfield was marred by injuries, including a near fatal accident in which he fell through a greenhouse and suffered a major loss of blood.
However, he bounced back in the late 80s and was top scorer for Liverpool reserves in the 1989-90 season, scoring 17 goals in 28 games to help the side win the Central League title.
'Deeply saddened'
The club spokesman said he was on the verge of his first-team breakthrough when irreparable damage to his knee forced him to quit football.
The severity of his injury also meant he was unable to play in his testimonial game at Boundary Park in 1992 between Oldham and Liverpool.
After retiring he worked as a HGV driver.
The Liverpool spokesman said the club would pay tribute to Harrison at a home game, the date of which was yet to be confirmed.
He said that the "thoughts of everyone at Liverpool go out to his family and friends at this sad time".
A spokesman for Oldham Athletic said the club was "deeply saddened" to learn of Harrison's death on Wednesday.
"We would like to extend our deepest condolences and sympathies on behalf of players, officials and supporters of Oldham Athletic to Wayne's family and friends at this sad time," he said.