Chuckle Brothers to guest edit Northern Echo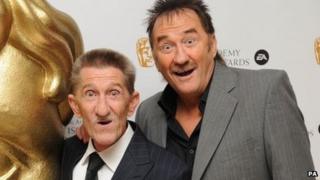 Children's TV comedy duo the Chuckle Brothers are taking time out of their pantomime roles to guest edit a regional newspaper.
Barry and Paul, who are starring in Aladdin in Darlington, will attend the news conferences for the Northern Echo's Christmas Eve edition.
Editor Peter Barron said it was "an opportunity to lighten the mood a bit".
The brothers said they would "see what stories they've got and if they're not right, we'll get rid of them".
The brothers, who play Wishee and Washee in the Civic Theatre show, will also judge a Christmas cracker competition.
The pair said that they had "got a mallet so we'll be 'ed-iting' all day".
Mr Barron said there was "a perception that there is too much bad news around, so this is an opportunity to lighten the mood a bit".
"Obviously if something major happens, they understand the news will have to take priority."
The Chuckle Brothers, who are known for their catchphrase "to me, to you", became famous after winning talent show New Faces in 1974.
Their Chucklevision television show has been running for 25 years.