Croydon sofa fire survivor 'little hero Robbie' wins award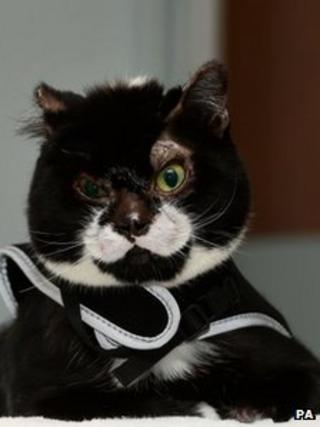 A former stray cat that survived a fire in its makeshift abandoned-sofa home, has been named PDSA Pet Survivor of the Year.
One-year-old Robbie from Croydon, south London, has ear-tips missing and had to have a back leg amputated after the fire, which happened in Ash in Dover.
But after six months of skin grafts and surgery, new owner Gill Smith collected Robbie from the vets.
Ms Smith said Robbie was a "little hero".
She said: "Robbie is a unique character and he still bears the physical scars from his fiery ordeal.
"The tips of his ears are missing, he has a Mohican due to the skin graft on his head, and the toes on his remaining back leg were melted together into a stump.
"But despite this he runs around the house like a rocket."
'Critically ill'
Robbie suffered severe burns to its face, head and paws after fire broke out in the sofa he had taken refuge in.
The cat received treatment costing thousands of pounds - much of it being paid for by the community after a vet practice published appeals in the local paper.
PDSA vet Elaine Pendlebury said: "One of his back legs also had to be amputated. But Robbie always loved attention even when he was critically ill - very few animals could have coped the way he did.
"Robbie is a truly inspiring story for us all. He coped so well with his pain and suffering and fought back against severe injuries that not all pets would have overcome. He really is a true survivor."