Abandoned horse crisis as charities reach capacity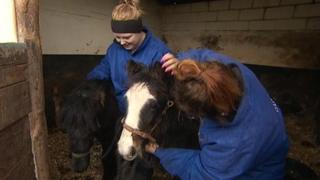 Equine rescue groups are warning they are facing their worst crisis in 25 years because of a dramatic rise in the number of horses being abandoned.
A joint report, also including the RSPCA, said thousands will be in danger if there is a harsh winter.
Nationally, about 7,000 horses are said to be at risk, with many charities at, or near to, capacity.
The charities believe the economic climate means owners are cutting back on vet costs, care, shelter and feed.
The market for ponies is so saturated, some are being sold for as little as £5 with one charity reporting a five fold increase in abandoned animals in four years.
Fly grazing
The National Equine Welfare Council said in some of the worst cases, large numbers of animals are abandoned at the same time, requiring "massive" rescue operations.
"Recently we were involved in a case with over 250 horses on one farm and only a few weeks later more than 400 horses on another farm," its chair, Nicolas de Brauwere, told BBC News.
Redwings, which is one of the largest horse sanctuaries with nine centres in the UK, said reports of abandoned horses have risen from 160 in 2009 to nearly 800 reports last year.
In many cases owners who can no longer look after their animals abandon them on private land without the landowner's permission - a practice known as fly grazing.
Landowners then have a "duty of care" and become responsible for the welfare of the animals until the owner is found or comes forward.
The Mare and Foal Sanctuary near Totnes in Devon says the demand for spaces has doubled in the past year and it is getting several calls a day for help.
It is currently caring for 118 animals and is at capacity.
Tracy Gray, the sanctuary's manager, said one pony was rescued after being left in a Welsh woodland.
"He was tied to a tree and had no access to water," she said.
The joint report, which includes the British Horse Society, Redwings and World Horse Welfare, says if there is another harsh winter they will not be able to physically cope with the thousands of horses at risk.
Sian Morris, equine administrator at the Mare and Foal Sanctuary, said the prospect of a harsh winter was "worrying".
"We can give advice and will try to help encourage responsible rehoming, but we just can't take any more horses at the moment."