Nigella Lawson PA jury consider verdicts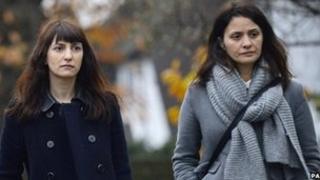 The jury in the trial of two sisters accused of defrauding Charles Saatchi and Nigella Lawson has been sent out to consider their verdicts.
Francesca Grillo, 35, and her sister Elisabetta, 41, are accused of spending £685,000 on credit cards belonging to the TV cook and her ex-husband.
The sisters deny committing fraud and claim they were authorised to spend the money by Ms Lawson.
The judge told the jury "the battle lines in this case are clearly drawn".
'Not well'
"The Crown's case is that these two women, over a long period of time, acted dishonestly and knew perfectly well they were acting dishonestly," Judge Robin Johnson said.
"The defence case is that they had authorisation, either specifically, in terms of items bought and hotels, or implied - a taxi, taking out cash."
One of the Grillo sisters is "not well", the jurors were told as they were sent home for the night.
"You will have noticed that neither defendant is in the dock," the judge said. "One of them is not feeling well."
"I have no doubt it is a genuine feeling not well and I have allowed her sister to be with her.
"I am sure you won't hold that against them."
Drug use
During the trial the court heard the sisters used credit cards loaned to them by the couple to buy designer goods.
Francesca is accused of spending the largest amount on herself with a sum of £580,000. The court was told the money was spent on expensive clothes and luxury holidays.
The pair claimed Ms Lawson consented to the Grillos' spending as they were "intimately connected to her private life and were aware of the drug use which she wanted to keep from her then-husband Charles Saatchi".
Giving evidence, Ms Lawson admitted taking cocaine a handful of times with her late husband John Diamond and once during her marriage to Mr Saatchi. She denied being an addict or having a drug problem.
The judge told the jury of seven men and five women they must reach a unanimous verdict.
The Grillos, of Kensington Gardens Square, Bayswater, west London, each deny a single count of committing fraud by using a company credit card for personal gain between 1 January, 2008, and 31 December last year.