Review of 2013: Most read BBC England stories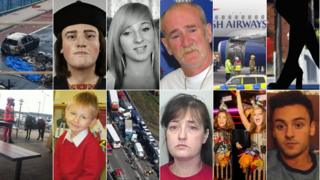 As 2013 draws to a close we take a look at the England stories that were most read on the BBC News website.
Crime stories and crashes dominated the year's headlines, attracting the most attention from readers.
It was also a year when stories about horses in McDonald's, ill-advised Halloween costumes and the confirmation of a king in a car park were popular.
Here is a list of the most read England stories in each month.
January
London helicopter crash: Two die in Vauxhall crane accident
Two people were killed when a helicopter crashed into a crane concealed by thick fog and cloud in central London.
The crash happened during morning rush hour on 16 January.
Pilot Pete Barnes, 50, a father-of-two from near Reading, and pedestrian Matthew Wood, 39, of Sutton, south London, were both killed.
The crane operator Nicki Biagioni, 30, of Essex, said he was "very lucky" after oversleeping and being late for work that morning.
February
Richard III dig: DNA confirms bones are king's
A skeleton found beneath a Leicester car park was confirmed as that of English king Richard III.
The remains of Richard, killed in battle in 1485, are now subject to a legal battle over where he will be buried.
A judicial review will decide whether the procedure that led to his bones being excavated in Leicester and the decision to reinter them at the city's cathedral, was conducted correctly.
March
Birmingham stabbing: Man held over Christina Edkins attack
Christina Edkins, 16, was stabbed to death on a rush hour bus in Birmingham by Phillip Simelane.
He admitted her killing and was detained indefinitely under the Mental Health Act.
Christina had been travelling to Leasowes High School in Halesowen on the number 9 bus, two weeks after her 16th birthday, when she was attacked.
Simelane, who was sitting behind her on the upper deck, stabbed her in the chest as he walked past to get off.
Three months before the attack he had been released from prison unsupervised, despite warning signs over the state of his mental health.
April
Derby fire deaths: Philpotts and Mosley jailed
Mick and Mairead Philpott, and Paul Mosley, were jailed for manslaughter following the death of six children in a house fire.
Jade Philpott, 10, John, nine, Jack, eight, Jesse, six, and Jayden, five, died on the morning of the fire on 11 May 2012.
Mairead Philpott's son from a previous relationship, 13-year-old Duwayne, died later in hospital.
She appealed against her 17-year sentence, but it was rejected in a televised hearing from Nottingham Crown Court.
Paul Mosley, who received the same sentence for the children's deaths, withdrew his appeal.
Mick Philpott, the victims' father, has not appealed against his life sentence.
May
Plane 'fire' closes Heathrow runways
A British Airways plane was forced to make an emergency landing at Heathrow after black smoke was seen coming from one of its engines.
Both runways were closed as passengers and crew used emergency chutes.
Witnesses reported seeing flames coming from the engine of the Heathrow to Oslo service.
David Gallagher, a passenger on the plane, said: "There was a loud sound... and the right engine was clearly on fire. I mean big flames, very visible from the rest of the cabin, and lots of black smoke."
He said a few passengers were visibly upset but the cabin and ground crews were "outstanding and completely calm".
June
Man calls Solihull police to complain about prostitute's looks
A man received a warning from police after he dialled 999 to complain about a prostitute's looks after meeting her.
West Midlands Police said they were contacted by the man saying he wished to report the woman for "breaching the Sale of Goods Act".
Officers sent the man a letter warning him about wasting police time.
July
Horse in McDonald's: Rider fined after 'drive-thru' refusal
A woman was fined after taking her horse into a McDonald's restaurant in Greater Manchester.
Police said the woman, who has not been named, was in the saddle when she was initially turned away from the drive-through kiosk on Bury New Road.
The woman then led the animal inside, where it "ended up doing his business on the floor", a Greater Manchester Police (GMP) spokesman said.
McDonald's said it was unable to serve customers on horseback.
August
Daniel Pelka murder: Mother and partner given life
The mother of Daniel Pelka and her partner were jailed for life over the four-year-old's murder.
Magdelena Luczak, 27, and Mariusz Krezolek, 34, were told they must serve a minimum of 30 years each for what the judge called their "incomprehensible brutality".
Luczak and Krezolek blamed each other for killing Daniel who died from a head injury in March 2012.
Daniel, who had also been starved by the pair, weighed just over a stone and a half when he died.
September
Sheppey crossing crash: Dozens hurt as 130 vehicles crash
The 130-vehicle crash in thick fog left eight people seriously injured and 35 needing hospital treatment.
The government was asked to undertake a review of safety measures on the Sheppey crossing in Kent.
Both the RAC and Kent Police have said it was a "miracle" no-one died.
Reports suggested some of the vehicles involved in the collision did not have lights on, despite the conditions; others may have been driving too fast.
October
Amanda Hutton jailed for Hamzah Khan killing
Amanda Hutton allowed her four-year-old boy to starve to death and then left his decomposing body in his cot for nearly two years.
She was convicted of manslaughter and jailed for 15 years after the judge said she posed a "real danger" to children.
Hamzah Khan's mummified remains were found in squalid conditions at their Bradford family home.
Hutton had previously admitted the neglect of Hamzah's five siblings, who also lived at the house and were aged between five and 13 in 2011, and preventing the burial of Hamzah's body.
November
Twin Towers fancy dress students condemned
Two students who dressed as the Twin Towers in a fancy dress competition were condemned by university and students' union bosses.
University of Chester students Amber Langford and Annie Collinge, both 19, won the Halloween competition at a nightclub in Chester.
Their outfits depicted flames and explosions during the 11 September 2001 attack on the World Trade Center.
They apologised for causing offence, which they said "was not intended".
December
Olympic diving star Tom Daley in relationship with man
In a YouTube broadcast, so far seen by more than 10 million people, Olympic diver Tom Daley revealed he was in a relationship with a man.
The 19-year-old London 2012 bronze medallist said: "In spring this year my life changed massively when I met someone, and they make me feel so happy, so safe and everything just feels great.
"That someone is a guy."
Edward Lord, chairman of the Amateur Swimming Association, said: "To be one of the first British Olympic athletes to come out is very brave."